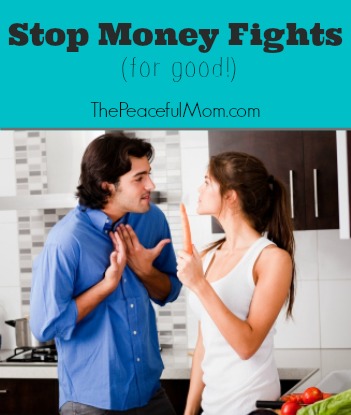 If you are like many families, money is tight and there are plenty of opportunities for arguments about how to spend it. In this series, I am giving you some helpful tips to put an end to those fights. (Read How to Stop Money Fights part 1 here and part 2 here.)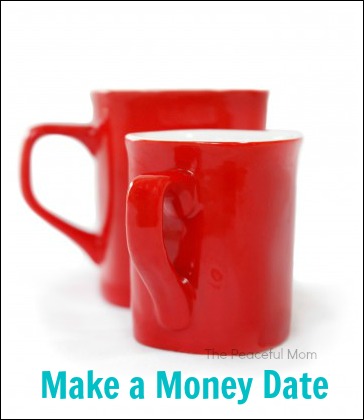 When you have a financial problem and your spouse doesn't seem to be listening, it is tempting to talk more and more about the issue. It seems counter-intuitive, but talking less often, but more clearly and specifically about money issues can help.  A terrific way to accomplish this goal is to set up a weekly "money date" where you drink coffee (and maybe eat dessert) and talk about your money and financial goals. The key to making the dates work for you is to keep them as light-hearted as possible and limit the time that you discuss your money to 15-20 minutes max.
Dave Ramsey says that in almost every marriage there is one spouse who is a "nerd" (very money conscious, a saver, good with numbers) and a "free spirit" (spender, not good with details, doesn't want to budget). The "nerd" will want to bring all of the details to the meeting and discuss ways to save money, while the "free spirit" will want to talk about all of the fun ways there are to spend the money. To make the budget work, you will need to find ways for each partner to get what they need.
In our marriage I am the more detail-oriented partner and my husband is more spontaneous. If I try to talk about the details of our finances too often my husband's eyes glaze over . What works for us is for me to write everything on paper and give my husband a 10 minute update on exactly how much money we have, how much we need and where everything is going. I get his ideas and feedback and make a plan based on what we talk about. I try to do this on a weekly basis on payday and then avoid talking about the money unless we have something specific we have to discuss. This arrangement works well for us because I am able to communicate on a regular basis about what is going on, but my husband doesn't feel nagged to death by the details.
If you would like to make a weekly money date, here are three tips to get started:
Make an Appointment
Set a regular day and time you can both agree on (right after work isn't a good time) and write it on the calendar or schedule it on your phone. Breakfast on payday works well or lunch on Saturday. Honor your appointment time just like you would a doctor's appointment. If you have variable schedules, set a time on Sunday to plan your date time for the upcoming week.  
Be Specific
Many marital arguments occur because one spouse assumes the other spouse knows how he feels or what she is thinking. These kinds of arguments can easily be avoided by simply communicating specifically what your needs and desires are. During your money dates, talk about specific numbers, specific ways you want to spend and save money. Talk with your spouse about exactly what is important to each of you, both short term and long term (How many times will you eat out this month? How will you spend the $200 bonus check? How much should you give to charity? How often should you take a vacation?) Once each partner has had a chance to talk about what is important, make a prioritized list together of where you want to spend your money.
Honor the Heart
While you are discussing your spending priorities, be sure to honor your spouse's emotional needs. If your husband feels deprived when he can't eat out with his friends, try setting a specific spending amount that you both agree on (this will probably be a little higher than the saver of the couple will want it to be). When the money is gone, there are no more outings until the next month. If your scrapbooking hobby is very important to you, set a budget amount together for spending on supplies and stick to it. The partner who wants to save money usually doesn't see the need for "fun" money, but if the spender doesn't have some money to play with, your budget plans won't work. The "free spirit" will spend money anyway in order to meet an emotional need.
Making a "money date" won't solve all your problems, but it can go a long way toward improving your communication and ending arguments about your finances. 
If you find that trying the tips in this series has not improved your situation you may try some outside help. Dave Ramsey's Financial Peace class has helped many people including us (click here to find a class in your area). Attending the weekly class made it okay to talk about money and actually forced us to talk about it because we had homework!
You may also want to talk with a pastor, trusted friend or a professional counselor. You can click here to find a Dave Ramsey financial coach in your area. (Please note that these counselors charge a fee.)
Do you have a weekly time to talk to your partner about money? Share your ideas in the comments.
Other Posts in This Series:
How to Stop Money Fights part 1
How to Stop Money Fights part 2