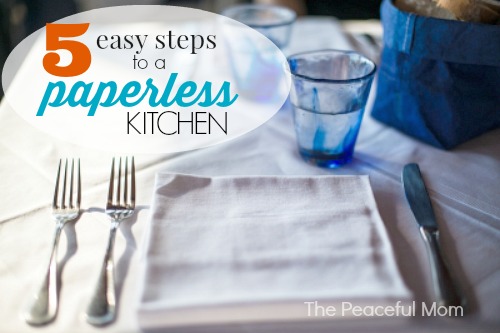 Save Money: 5 Easy Steps to a Paperless Kitchen
One easy way to save money in your household is to cut down (or cut out completely) all the paper goods that you use in your home. Here are a few tips to help you make than transition smoothly.

Use What You Have
Lots of items you already have can be recycled to use as cleaning rags. My favorites are old t-shirts and socks with holes. I use these to dust the open shelves in my kitchen, clean windows and wipe up spills. I also take old and worn out washcloths from the linen closet and add them to the rag pile.
Go Thrifting
Thrift stores and yard sales are a great resource for cloth napkins and hand towels. If you find a nice matching set you can save it for special guests and use your non-matching napkins for the family. You may also find old towels and cheap t-shirts for super low prices which are great for cleaning.
Make Cloth Substitutes Convenient
Store your clean rags, towels, washcloths and napkins in a convenient place and let everyone know where they are. We have ours in a drawer right next to the kitchen sink which makes it really easy to grab a cloth alternative to dry hands and wipe up spills.
Make Paper Towels Disappear
I still keep paper towels around for things like spilled oil or for clean up when someone is sick, but by making them less accessible we only go through a roll every 2 or 3 months. If the paper towels are difficult to find, your family will be less likely to use them.
Change Daily
The key to safely using non-disposable items (especially in the kitchen) is to have enough on hand that you can use a new towel, dishcloth and/or rag every day. You will also need a convenient place to stash the dirty towels and rags which can start to smell after about a week.
I have a dishpan in the cabinet above my washing machine where I store the used cloth items. I spread out any wet items on the side of the dish pan and then add them to the pile in the center of the dishpan once they are dry. Once every ten days or so, I wash everything so our supply never dwindles.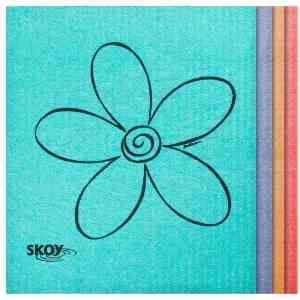 If you want to try a fantastic paper towel substitute a friend told me about Skoy Eco-friendly Cleaning Cloths which are thin sponges that dry very quickly and are awesome for cleaning large surfaces and soaking up spills.
They are also relatively inexpensive and hold up well after multiple washes. My friend washes them in her washing machine and then microwaves them for a couple of minutes to fully kill any lingering bacteria.
Click here to find Skoy cloths on Amazon.
Have you gone paperless? Share your tips in the comments.
*Affiliate links are included in this post. Read our disclosure policy here for more information.
photo credit: franky242; freedigitalphotos.net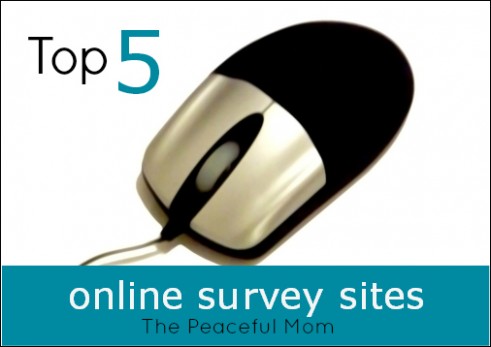 Make Money Online!
Click here for a complete list of The Peaceful Mom's recommended survey sites.