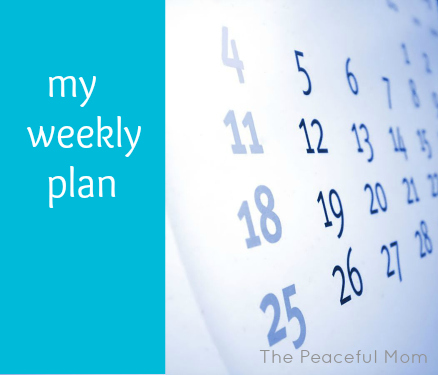 Get Organized! Manage your time, simplify your life and live your true priorities with a weekly plan.
Take a look at my plan and create your own with my FREE customizable planner! Read more details about how I plan here.
I haven't published a weekly plan for a couple of weeks, but I have made one  each week. I have been in the process of transitioning to my new planning system (read more here).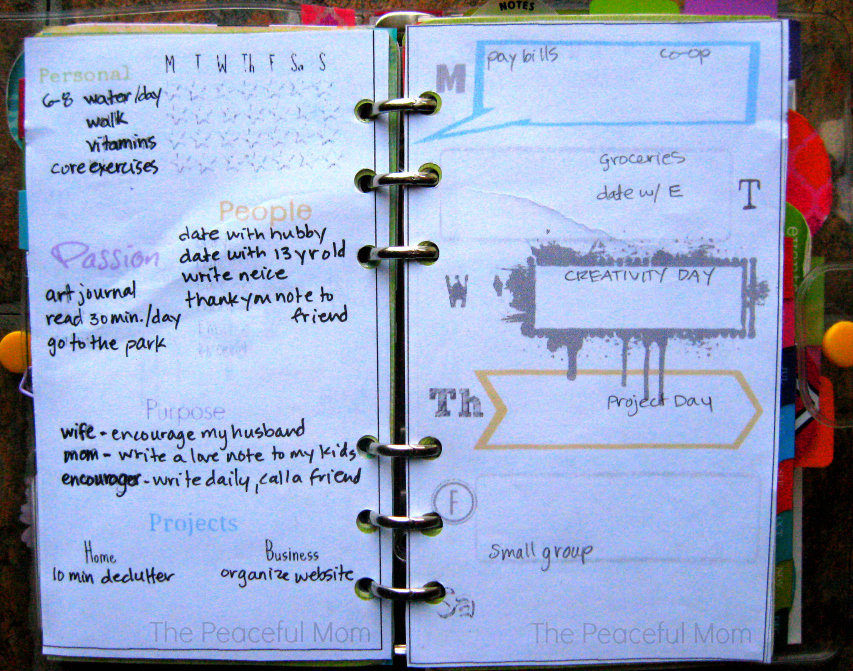 This week's plan:
PERSONAL – go to bed by 10 p.m., drink 6-8 glasses of water, exercise and take my vitamins daily
PEOPLE –  date with hubby, date with 13 year old,
PASSION –  art journal time daily, spend time at the park, read business book
PURPOSE –  respect and encourage my husband, write love notes to my kids this week, write daily on the blog and my current writing project
PROJECTS – 10 Minute Declutter, continue organizing my blog, prepare for speaking engagement in two weeks

As a gift to my readers, you can now print your own customizable Weekly Plan! Click here to subscribe to The Peaceful Mom Weekly eNotes and you will receive access the download link along with my e-book Stress Free Meals and some other fun bonuses.
Click the download link and type your info for the week into the planner. Once you are done, right click the form to print and check off each task as you complete it.
(You can see all of the FREE printable planners I have available here.)
What do you have planned this week? Leave a comment. 🙂
You May Also Like: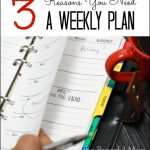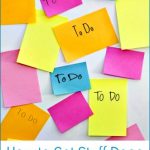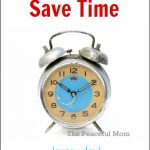 Make Money Online!
Click here for a complete list of The Peaceful Mom's recommended survey sites.