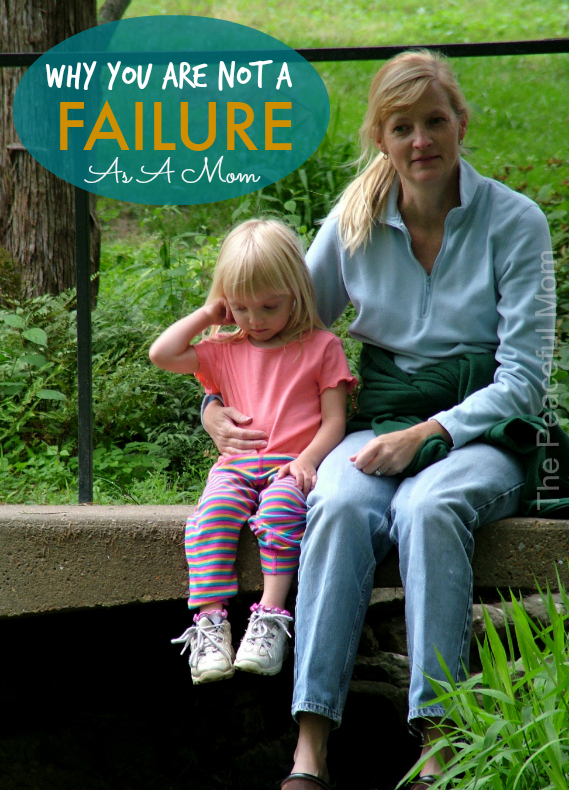 You may have never said it out loud, but deep down you feel like a failure and you've created a long checklist of why you fail as a mom.  
1.  You don't feed your children 100% all natural food and have actually served macaroni and cheese from a box.

2. You have piles of laundry in several rooms of your house.

3. You never create food origami for your children's lunch boxes.

4. You use your phone while your kids are playing at the park.

5. You served cereal for dinner three times this week because you were too tired to cook.

6. Your children did not read by age 3 and were finally potty trained at the ripe old age of 4.

7. Dirty dishes are piled up in the kitchen sink and you're not really sure how long they've been there.

8. You still haven't lost all the baby weight and your youngest child started kindergarten this year.

9. You occasionally allow your children to watch television for 3 hours straight.

10. Your toilet hasn't been cleaned in months.
If anything on this list sounds familiar, congratulations! You are not a failure and you are not the world's worst mom. You are NORMAL.
Can we just be real for a minute and admit that life doesn't look like a magazine cover or a Pinterest board?
Can we admit that although we want to be stellar parents and do the absolute best that we can for our children, there are a lot of days where we are just doing well to keep them dressed, fed and safe?
And that's okay.
The perfect mom isn't the one who is doing the awesome Pinterest craft with her kids and posting it on Instagram.
 The perfect mom is YOU.
You are the perfect mom to make your children giggle until their tummies hurt.
You are the perfect mom to hold your toddler all night because she is sick.
You are the perfect mom to say yes when your 3 year old catches yet another caterpillar and asks to keep it as a pet.
You are the perfect mom to wipe the jelly off your kids faces for the 300th time.
You are the perfect mom to snuggle up and read a book on the couch.
You are the perfect mom to draw your kids closer into relationship with God.
Why? Because you are the only mom your kids have and only you can perfectly parent them – just by being you.
So today forget the list of things that you have failed to do. Enjoy your children and yourself right where you are – imperfect and perfect at the same time.
You May Also Enjoy: