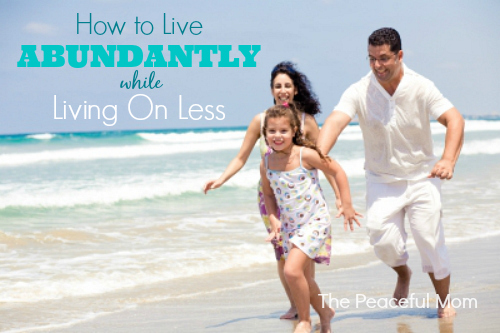 How to Live Abundantly While Living On Less
Do you want to live a joy-filled, abundant life but you feel discouraged because your finances are not where you want them to be?
It may seem contradictory to talk about living abundantly while living on less, but it is possible.
In the book of John in the Bible, verse 10:10 says that God came that we might have life, and that we might have it more abundantly. That word "abundantly" means "exceedingly", "over and above", "more than is necessary". So how can we live "over and above" when our finances seem to be lacking?
Give us this day our daily bread.
The first step is to be thankful and content that you have what you need for today. Do you have somewhere to sleep, food to eat, a healthy body? Be thankful that you have the basic necessities.
Enjoy the small things. 
Rather than focusing on the negative circumstances in your life, focus on the small blessings. What can you enjoy today – a chat with a close friend, a long hug, the smell of freshly baked cookies, good music, a walk in the sunshine?
I keep a small mint plant in my kitchen window so I can enjoy it's fragrance daily, and I try to take a walk as often as possible to enjoy nature. Neither of these things cost money, but they enable me to enjoy life and focus on what is good rather than any discouraging circumstances.
Be generous.
When we focus on the needs we have, we often try to control our finances more, but opening up our wallets and our lives to helping others gives us a new perspective and creates gratitude and joy for us as well as the people we are helping. As  Proverbs 11:25 says,"A generous person will prosper; whoever refreshes others will be refreshed."
Ask God to give you a new perspective.
If you struggle with comparing your self to others, being discontent or depressed, ask God to help you see things differently. Prayer is a great antidote to negative thoughts.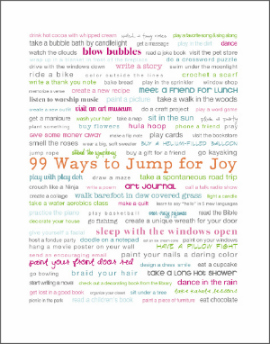 If you need a little help finding those small blessings in your life, click here to subscribe to The Peaceful Mom e-notes and print my exclusive 99 Ways to Jump for Joy Subway Art Print.
How do you live abundantly with less money? Leave a comment.
photo credit: imagerymajestic; FreeDigitalPhotos.net