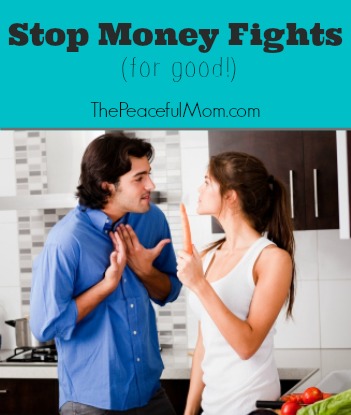 Money is one of the top reasons couples argue, so to help you put an end to those squabbles, I'm beginning a new series called Stop Money Fights (for good!).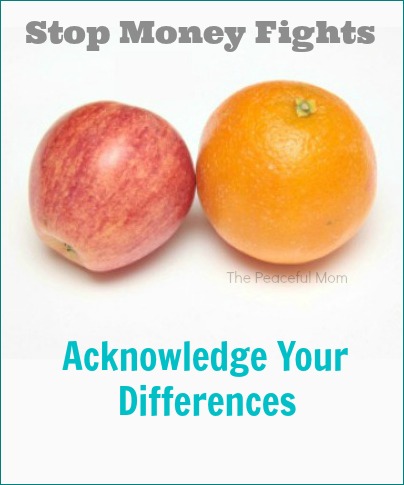 photo credit: Suvro Datta
Acknowledge Your Differences
"My spouse and I constantly argue about money, or don't talk at all. He wants to freely spend our money on whatever he wants and resists my efforts to save and be frugal." 
It seems inevitable. We are attracted to someone because they are different. You are extroverted, he is introverted. He is organized, you resist structure. You love to have fun, and he is more serious.
That's great – until we start talking about money. Then those differences take on an entirely different meaning. One of you likes to save, the other likes to spend. One of you enjoys the structure of having a budget and the other feels that it "cramps his style."
And then the fights begin.
Those fights are not just about the money though. They are about the conflict between your belief systems about money and your expectations, so those are the root issues you need to talk about.
Please notice that I said "talk", not beat your spouse over the head with the checkbook (or other heavier objects!).
Our first response is usually to try to change our partner and make them do things the way we want them to be done, but trying to change someone else only creates stress for both of you.
Money is not only about numbers. It's spiritual and emotional, and those emotions can run high when someone wants us to change the way we spend money. Creating unity in your relationship requires that you acknowledge and respect your partner's differences. You don't have to agree with his or her opinions and desires, but you do have to realize that you are not going to change who your partner is at his core.
One of the ugly truths about life is that you can truly only change yourself – your beliefs, your actions and your reactions. Once you stop focusing on your partner's faults and begin to change the way that you interact with him, you will be more peaceful and you can actually create space for him to change because he isn't fighting your attempts to make him change.
Acknowledging your differences and the fact that you cannot change the basic make-up of your partner can go a long way toward reducing the stress in your relationship, which will in turn reduce the number of fights you have.
Your differences can actually be strengths in the relationship. My husband loves that I am the nerdy, more math-oriented of the two of us, so he is happy for me to balance the checkbook. He is great at seeing the big picture and helping us to save more for the future. 
The key is to talk about what each of you want and to work through the details so that both of you make some compromises and come to an agreement. The spender should be able to have some spending money and the saver should be able to save some money. 
It's all about working together toward a common goal – happiness for both of you.
What can you appreciate about your partner's differences? Leave a comment.
Read Part 2 of Stop Money Fights (for good) here.
Make Money Online!
Click here for a complete list of The Peaceful Mom's recommended survey sites.