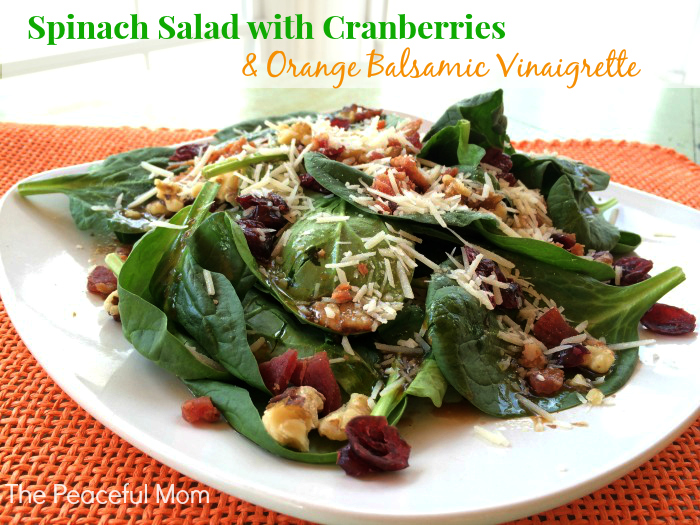 Spinach Salad with Cranberries & Orange Balsamic Vinaigrette is a guest post from Wendy at Striving to Follow Him.
One of my favorite things about spring is enjoying fresh produce and lighter meals like salads. If you're looking for an easy and delicious salad for spring, you will love this combination! Serve as a side dish, or make it the main dish by simply adding grilled chicken.
Spinach Salad with Cranberries & Orange Balsamic Vinaigrette
Ingredients
Salad:
2 cups fresh spinach
2 tablespoons chopped walnuts or pecans
2 tablespoons dried cranberries
2 tablespoons chopped bacon pieces
2 tablespoons shredded parmesan cheese
Dressing:
1 1/2 tablespoons olive oil
1 tablespoon balsamic vinegar
1 tablespoon orange juice
1/2 to 1 tablespoon brown sugar
dash of dried basil
Instructions
Layer spinach, walnuts, cranberries, bacon and parmesan on a plate.
Whisk together all ingredients for dressing.
Pour over salad and serve.
https://thepeacefulmom.com/2014/03/12/spinach-salad-with-cranberries-orange-balsamic-vinaigrette/
This dish serves one as a main dish and 2 as a side salad, but can easily be doubled, tripled, or quadrupled and tossed together to serve larger numbers of people. Oven-roasted chicken breasts or a grilled steak would act as lovely accompaniments to this flavorful salad!
I'm linking up to Gluten-Free Tuesdays and Gluten Free Wednesday!
Wendy is a homeschooling mama to five who loves to encourage others along the homeschooling journey. She also considers herself a 'foodie' and is always ready to try a new recipe in the kitchen. You will find Wendy writing about homeschooling, faith, food, and family over on her blog, Striving to Follow Him. Be sure to visit and connect with Wendy on Facebook, too!