This post brought to you by PERK. All opinions are 100% mine.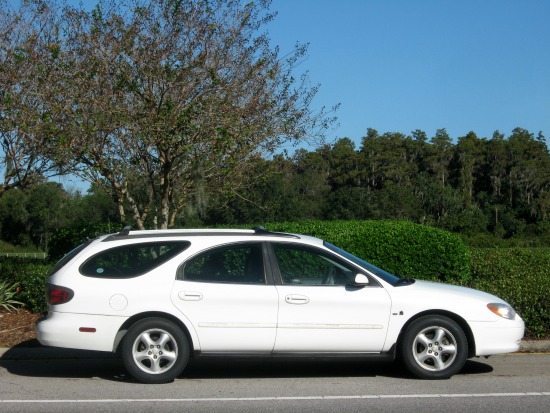 You may have read about the AMAZING gift a friend gave us – a new car! (You can read our New Car Story here in case you missed the story.)
Thankfully our friend cleaned the car and gave it to us in immaculate condition, but one of the issues of having a used car or an older car is that they lose that "new car" smell. And let's face it – if you have a family, you probably have a car that has some … um … "interesting" odors.
I recently discovered a new product that can help you solve this problem. It's called the PERK Vent Wrap and it's quite ingenious.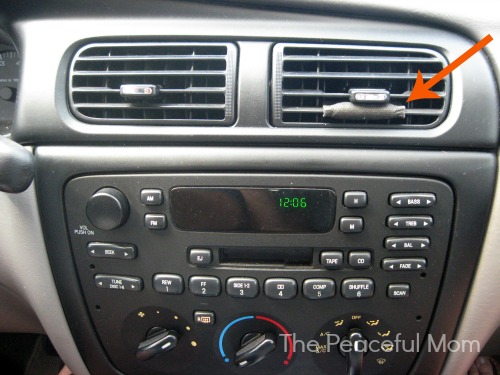 The PERK Vent Wrap slides onto your car's air vent and discreetly delivers just the right amount of fragrance using the new StediScent® technology. The unique design of the PERK Vent Wrap is a unique vent air freshener that allows air to flow through the vent normally and allows you to adjust the vent without any problem.
The vent wraps come in packs of 4 with each one individually packaged so that the wrap holds its scent until you are ready to use it. Once you're ready, just open the package and slide the wrap onto the vent blade and you are ready to go.
One wrap lasts around 2 weeks, so a four pack gives you 60 days of odor free driving and they come in five fragrances: Lush Valley, Absolute Zero, Golden Vanilla, Clean Laundry and New Car.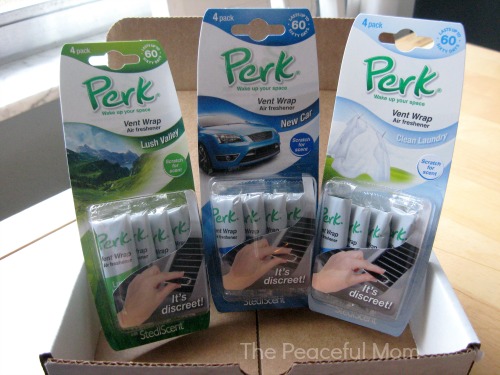 The folks at Perk sent us 3 fragrances to try – New Car, Lush Valley and Clean Laundry. My husband loves the product and especially the New Car scent. I am personally over-sensitive to fragrance (I rarely wear perfume), so I found the scent a little stronger than I would like, but the fragrances were all pleasant.
If you would like to try the new Perk Vent Wraps, you can purchase them at Advance Auto Parts, Walmart, Target, and other retailers that sell automotive air fresheners. You can also Like PERK on Facebook.
Just for fun, PERK and I are hosting a giveaway of 6 months of PERK Vent Wraps!
To Enter:  
*Post a comment on THIS post telling me why your vehicle needs a PERK vent wrap.
*Receive up to (3) additional entries by sharing this post on Facebook, Twitter and/or Pinterest and leaving a comment for each of your shares with the link back to it. (For example: If you share on Pinterest and Facebook leave one comment with the link to the Pinterest pin and leave a separate comment with a link to your share on Facebook.)
Contest Rules:
Open to U.S. Residents Only.
Entrants must be 18 years or older.
Winner will be randomly selected from the comments on THIS post only and notified by email.
PERK will mail the product directly to the winner.