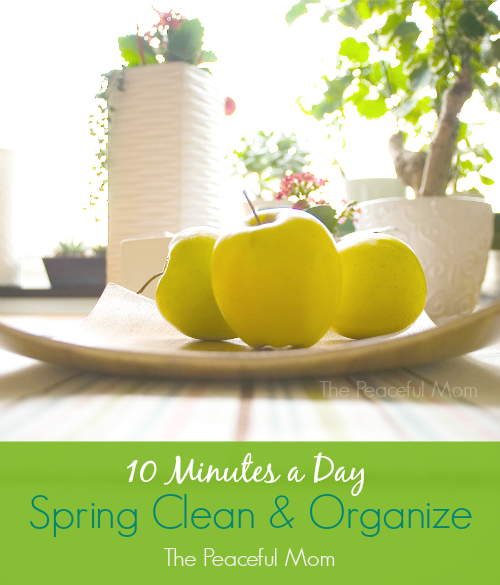 Spring Clean and Organize 10 minutes a Day!
It's almost Spring and that means it's time to freshen up the house. Cleaning and organizing are not my favorite activities so for the month of March I will be using my 10 Minutes A Day technique and doing a little bit at a time. I will be sharing my projects along with 10 minute tasks you can do each day to get your house back in shape.
This week's focus area is the kitchen.
I will be clearing some counters, rearranging shelves and going through my cabinets to get rid of anything we are not using. To join in, choose one ten minute project to do each day. Here are a few ideas to get you started:
10 Minute Spring Clean & Organize Projects – Kitchen

clean  your sink well

match your plastic lids and containers and get rid of a few of them

clean a shelf in the fridge

clean your stove top well including under the top

organize your utensil drawer – get rid of what you don't use

organize a shelf in your pantry

declutter the front of your fridge

organize your spices

clean under your sink
Leave a link or a comment with your project(s) for this week. Let's do this!
[Read more 10 Minutes a Day Spring Cleaning posts here.]
You May Also Enjoy: