Time Secrets (no one tells you)
Everybody loves a secret, right? Well, I'm letting you in on a few secrets that help me organize my time so that I can accomplish more and live my true priorities.
Last week I talked about how organization is a journey, not a destination (read more here). Today I'm giving you a few tips to help you along that journey of organizing your life.
Secret #4 – Systems keep you sane.
There is always plenty to keep us busy, especially as moms, and without systems and routines, our house, schedule and entire life can quickly turn to chaos. There are three main areas where you need to develop systems: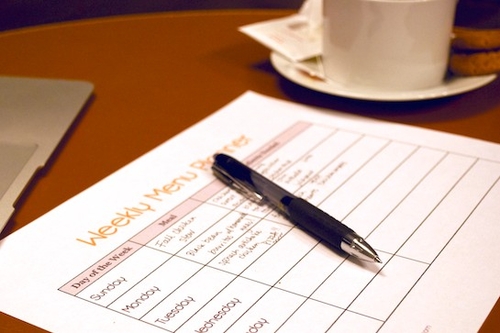 Meal Plan and Prep
We all need to eat and one of the easiest ways to simplify your every day life (and save time and money!) is to create a weekly meal plan. To make sure that you develop the habit, mark a specific time on your calendar for planning and creating your menu each week. If you would like a detailed explanation, click here for my How to Meal Plan post.
Another system that will help you get dinner on the table is to start your dinner preparations in the morning. Click here to read a detailed plan of how I do morning meal prep.
Laundry
Along with needing to eat every day, our families also need clean clothes and if we don't have a system for keeping that laundry going, it can quickly pile up and become a disaster.
With a family of six I am well aware of this problem! When my children were younger, I placed baskets in the laundry room for light colored clothes, dark colored clothes and towels, then I trained the children to place their dirty laundry in those baskets at night. Every morning I would start a load of laundry first thing and when it was dry, one child was assigned to fold and deliver the clean laundry to each member of the family.
Now that the children are older, I have a basket in each child's room for dirty clothes and they are each responsible to do their own laundry. My husband and I have two tall skinny baskets in our closet for darks and lights and when a basket is full I do a load of laundry.
Click here to read more about De-stressing Your Laundry.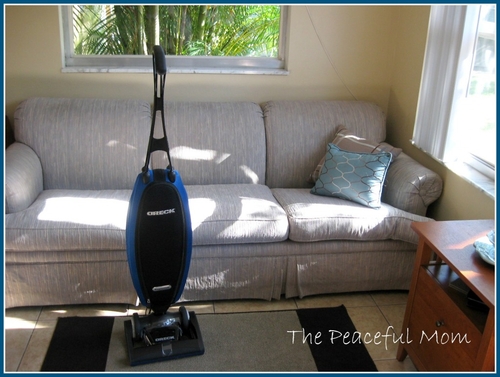 Cleaning
The last important area that you need a system for is keeping your house clean. To simplify, you can divide your cleaning tasks into daily, weekly and monthly lists. For example, washing dishes is a daily task. Vacuuming the living room and cleaning the bathrooms could be weekly tasks. Sweeping the garage or organizing closets could be on the monthly list.
Whatever system you choose, you should definitely get your family involved. Children need to learn the responsibility of helping out the family and mom needs the help. Dad can also love mom and keep her happier by helping her with the household chores.
In our family, each child must take care of his or her own personal items (clothing, hygiene, room organization and cleaning) and they each have a job that helps the family (dishes, cleaning floors, etc.). We do not pay our children to do any of these normal "you-are-part-of-the-family" kinds of jobs, but we do have extra jobs like washing the car for which they can receive pay. Of course, you should do what works best for your family.
Action Point:
Choose one area that you struggle in and commit to creating a routine for your family in that area.
What's your best tip for creating routines and systems to get household jobs done? Leave a comment. 🙂
(Email readers will need to click the title of this post to go to the blog.)
[Click here to see more time management secrets.]