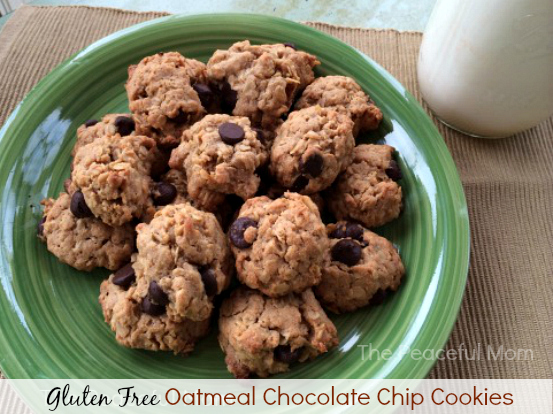 Gluten Free Oatmeal Chocolate Chip Cookies – Looking for an easy and delicious gluten free after-school snack for the kids? These cookies are chewy and chocolately – and great with a glass of milk!
Gluten Free Oatmeal Peanut Butter Cookies with Dark Chocolate Chips
Ingredients
1 cup creamy or crunchy peanut butter (also delicious with almond butter!)
2 eggs
1 cup sugar
1 ½ cups gluten free oats (we use Bob's Red Mill Gluten Free Whole Grain, Rolled Oats)
½ cup dark chocolate chips
Instructions
Add first three ingredients to mixing bowl and mix until well-blended.
Add oats and chocolate chips.
Stir until incorporated.
Place dough onto cookie sheet by rounded tablespoon, leaving about an inch between each.
Bake at 350 degrees for about 10 minutes or until just golden brown.
Let cool and serve!
https://thepeacefulmom.com/2014/02/27/gluten-free-oatmeal-peanut-butter-cookies-with-dark-chocolate-chips/
Reader Rose says,

"Thank you so much for the Oatmeal Peanut Butter Cookie recipe.  Only five ingredients, no baking soda, baking powder, vanilla and peanut butter instead of shortening. They bake like regular cookies.  My family just gobbled them up.  Thanks for putting recipes on your site that you have really tried and that work.  Thank you!"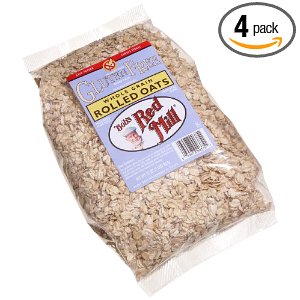 You can find Bob's Red Mill Gluten Free Whole Grain, Rolled Oats at Amazon and Vitacost. Click here to get a FREE $10 credit to Vitacost!
(We also use them in these gluten free recipes: Crockpot Granola; Oatmeal Pancakes.)
__________________________________________________
Wendy is a homeschooling mama to five who loves to encourage others along the homeschooling journey. She also considers herself a 'foodie' and is always ready to try a new recipe in the kitchen. You will find Wendy writing about homeschooling, faith, food, and family over on her blog, Striving to Follow Him. Be sure to visit and connect with Wendy on Facebook, too!

I'm linking up to Gluten Free Wednesdays!
You May Also Enjoy: