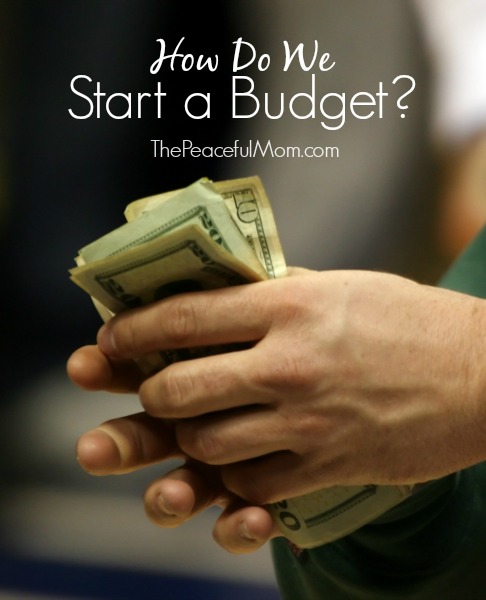 Q:
I came across your Living on Less than $28,000 a Year series on Pinterest the other day.  Once I started reading, I couldn't stop!
My husband and I have only been married for two years and we really need help to start a budget. The problem is it just seems like we aren't making enough to make ends meet. He is in school full-time and I have two part-time jobs. We also have medical bills from a hospital stay last year.  We just can't seem to get it together. Help!   – Jenny
A:
Jenny, it sounds like you may need to increase your income. Maybe your husband can pick up a part-time job while he is still in school. In the meantime, take these steps to get started with a budget:
Write Down Your Income
Make a list of every income source you have from full-time and part-time jobs, as well as any other money that comes into your household. Make a note of the amount and whether it is weekly, bi-weekly or monthly. Total your income for the month.
If your paychecks are irregular, add up the last four paychecks and divide them by four to get an average amount. If you are paid weekly, multiply this amount by four to get your monthly income amount. If you are paid bi-weekly, multiply by two.
List Your Expenses
Make a list of every expense you normally have in a month from the power bill to coffee and lunches. You can print this FREE Budget Worksheet to get started, but be sure to list every expense whether it is on the sheet or not.
Make a Plan
Write down the amount of your next paycheck on a sheet of paper. Use the list of expenses to create a spending plan for every dollar of your paycheck. You can read How to Budget (what we do) here to see details of how we plan our paychecks.
Once you have a plan, you can increase your chances of following the plan by keeping it in front of you (use a reminder on your phone or post-it note in your wallet). It may also help to take cash out of the ATM and place it into envelopes in your wallet for each spending category (groceries, gas, etc.).
Examine Your Spending
Pay close attention to where your money is going and determine if there are expenses you can reduce or eliminate for now until you get your finances on track. You may be able to cut costs by eliminating services like cable or by changing your lifestyle (avoiding expensive lunch dates with co-workers or friends for now).
Once you take a look at the actual numbers and begin to notice where your money is going you will have a better idea of whether you need to increase your income or simply cut your expenses. You may also want to read: How Do We Start Changing Our Finances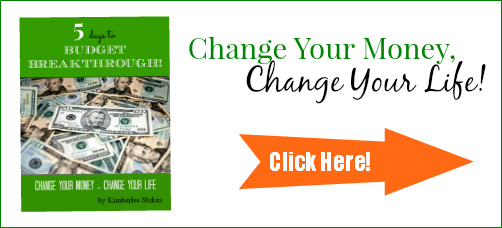 Need to get a better grip on your finances? Check out my 5 Days to Budget Breakthrough e-book.
Click here to read more!
You May Also Enjoy: