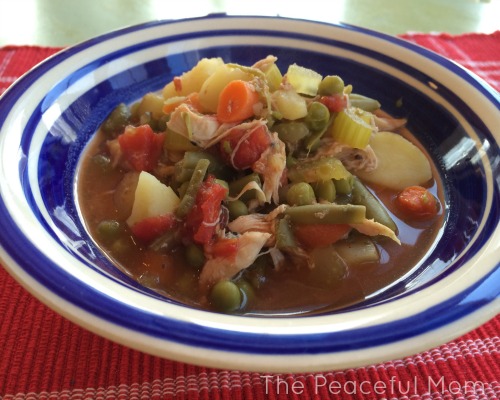 The weather has been much cooler here than usual, and there's not much better to help you stay warm than a delicious homemade soup. Gluten Free Chicken and Vegetable Soup works well in a large stock pot or stick all the ingredients in your slow cooker and forget about cooking until dinner time!  I hope you enjoy this easy warm-you-up dish.
Gluten Free Chicken and Vegetable Soup
Ingredients
6 chicken tenderloins, cut into smaller pieces with kitchen scissors
5 to 6 cups water, vegetable, broth, or chicken broth
1 tsp.salt
½ tsp. pepper
1 tsp. Italian seasoning
1 cup green beans
½ cup English peas
10 very small potatoes, diced
2 carrots, peeled and sliced into rounds
3 stalks celery, diced
1 14 ounce can petite-diced tomatoes
Instructions
Place a large pot on burner and add water or broth.
Add chicken tenderloin pieces, salt, pepper, and Italian seasoning to pot.
Let simmer until chicken is cooked through.
Add all other ingredients except canned tomatoes.
Let simmer on low heat for about ½ an hour, or until potatoes are fork-tender.
Add tomatoes and simmer for about 15 minutes more.
https://thepeacefulmom.com/2014/02/19/gluten-free-chicken-and-vegetable-soup-recipe/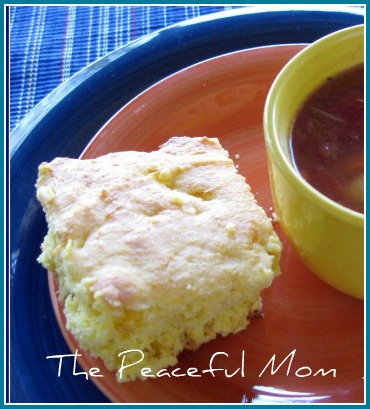 Serve this with our easy gluten free cornbread recipe here!
Need to save money on your groceries?  
Try my favorite meal planning service eMeals*. They offer weekly lunch and dinner menus including recipes and a grocery list and they have lots of plans including Slow Cooker, Costco, Gluten Free and Paleo Meal Plans!
Click here and use promo code DINNER15 to get an additional 15% off their already low prices!
I'm linking up to Gluten Free Wednesdays!
aaand Gluten Free Tuesday!
__________________________________________________
Wendy is a homeschooling mama to five who loves to encourage others along the homeschooling journey. She also considers herself a 'foodie' and is always ready to try a new recipe in the kitchen. You will find Wendy writing about homeschooling, faith, food, and family over on her blog, Striving to Follow Him. Be sure to visit and connect with Wendy on Facebook, too!