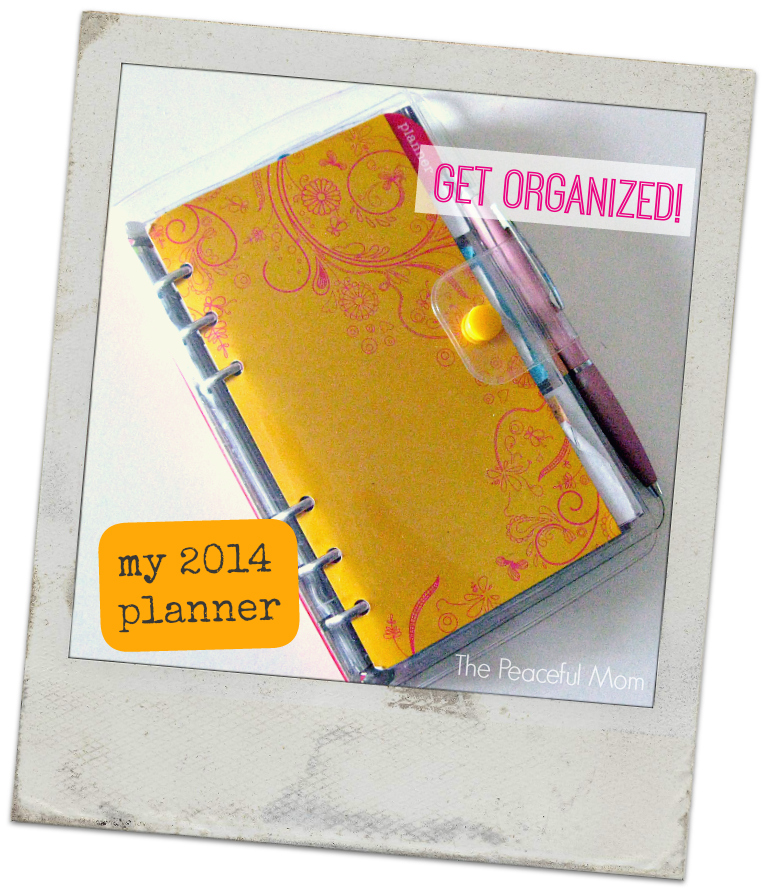 Get Organized: 2014 Planner (& Printable Planning Pages)
I admit it. I am on a seemingly endless journey to become more efficient and productive and after I encouraged you last week to evaluate your current organization system, I re-evaluated what I was using. (I am one of those people who likes to "walk the talk" and do what I am encouraging others to do.)
I like my Brain in a Binder for use at home, but when I am out and about I need something smaller. I also don't need to carry my entire life with me while I am running errands. In the past couple of years, I have started carrying a simple, small notebook with me where I write practically everything down.
Some of my very best ideas have come about while I am doing something mundane like buying groceries or walking in the park and I have found that if I immediately record these ideas, I am more likely to:
(a) remember them;
and
(b) do something with them.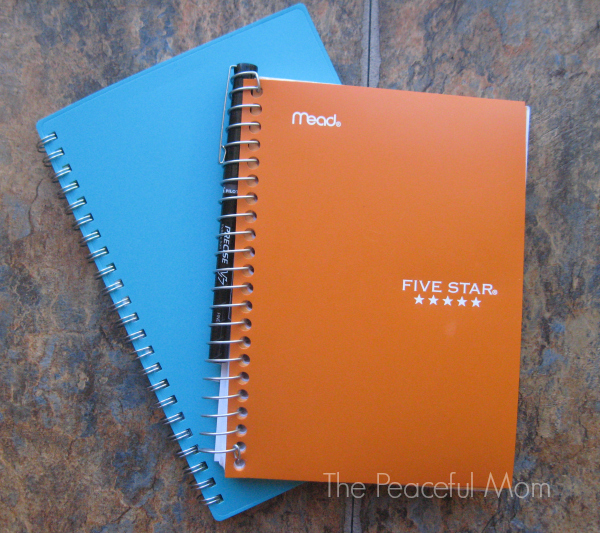 The notebook idea is great, but I also needed a calendar, so I started carrying the calendar pictured above along with my notebook. Last week I realized that I am being incredibly inefficient.
Oh my goodness! In my quest to research options, I have stumbled upon an entire world that I never knew existed: blogs about personalized planners.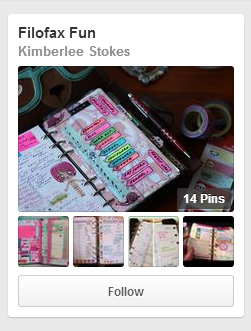 I have mentioned before that the act of handwriting my notes helps me remember things better (it's scientifically proven!) and I simply prefer writing over typing or texting. It turns out there is a legion of ladies who feel the same way that I do. There are literally hundreds, and maybe thousands of sites dedicated to personalizing daily planners. There was so much information that I decided to create a Filofax Fun Pinterest Board here to keep up with my favorite ideas.
Clearly, you can spend hours of time and hundreds of dollars in the quest to become organized, but I need to balance my need for organization and my desire to express my creativity with my budget and time constraints. I want something that works for me but doesn't take a lot of time or money.
So I decided to take what I have (an old planner, a computer, printer and paper) to create my own personalized planner sheets. I will be adding more, but I started out with my most basic need which is to organize my week's activities and goals.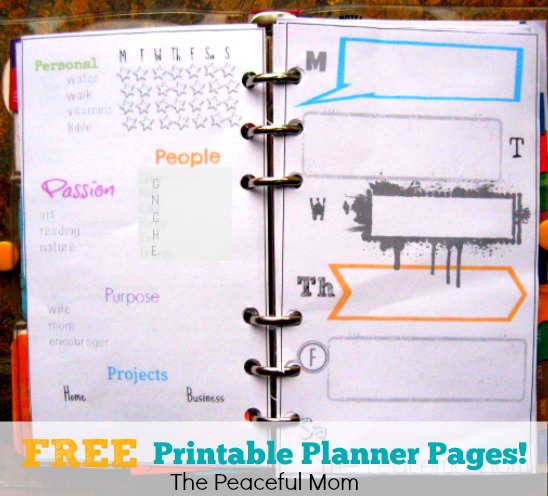 I used the basic format of my Customizable Weekly Planner for the weekly goals page on the left which is divided into five categories:
PERSONAL – habits that keep me healthy and happy
PEOPLE – activities that promote relationship with the people I love
PASSION – activities and experiences which enable me to enjoy life
PURPOSE – tasks that enable me to fulfill my purpose in life
PROJECTS – priority tasks that need to be finished this week
On the right I have a page where I can write my daily "to do" list for the week. I purposely left off Sunday because I try to take the day completely off except for church. Not having a space for Sunday on the calendar reminds me to set aside that time to rest rather than "do".
I am also currently setting aside Wednesday of each week for creative pursuits (read about WiFi-Less Wednesdays here). Making that day kind of "artsy" looking reminds me that it is time for creativity rather than regular tasks and making it smaller reminds me that I cannot fit that much into the day.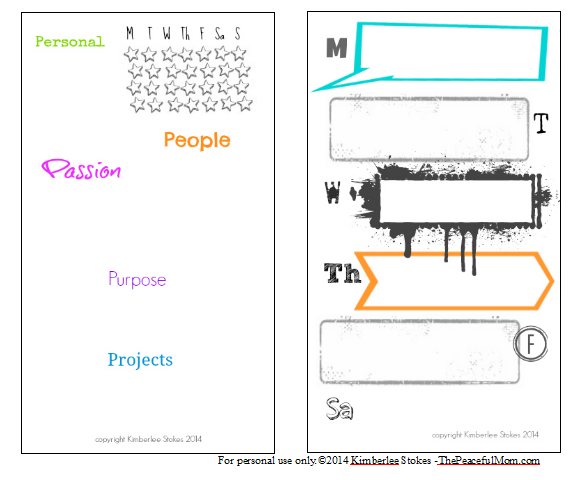 As I mentioned previously, organization is personal and these pages are specifically designed for what works for me, but I thought that I would make them available to you if you would like to try them out.
Subscribers to The Peaceful Mom Weekly eNotes can download the Weekly Planning Pages for FREE! Click here to subscribe. Once you confirm your email address you will be redirected to a screen with a link to download the planning pages and other free gifts.
Print the page, cut out the planners and hole punch them to fit your planner. I like having the blank pages on the back to write notes, but if you would like this printed on one sheet, you can take it to an office supply store and have them copy them front to back for you, or if you are more technologically proficient than I am, you can probably figure out a way to do it yourself using your printer at home.
Do you use a personal size planner? Leave a comment or a link to what you use and any ideas you have found helpful.
You May Also Enjoy: