Time Secrets (no one tells you)
Everybody loves a secret, right? Well, for the next couple of weeks I'm letting you in on a few secrets that help me organize my time so that I can accomplish more and live my true priorities.
Last week I shared the semi-depressing revelation that time management is really "self" management (read more here). Today I'm talking about something you know deep down, but which no one really tells you:
Secret #2:  Time management tools have to fit YOU!
To manage your time well, you have to find (or create) tools that are a custom fit for the way YOU think and live, not the way "everyone else" organizes, or the way you are "supposed to" organize.
I know this firsthand because I am a recovering planner shopping addict. For years I frequented office supply stores eyeing the beautiful, colorful, one-size-fits-all planners and accessories all while fantasizing about how my life would be magically transformed with my robin's egg blue leather day planner.
A few weeks or months after my purchase the planner would be abandoned because it didn't work for me, and I would be off to try something new. Finally I realized that I had to use tools that worked with the way that I thought, which let me tell you, is not normal. 🙂
I started my personalized organization journey with my "Brain in a Binder" (watch a video here). The format of my planning pages has evolved over time — you can see the progression of my planners here (and print your own), and last year I added a purse-sized calendar and a small notebook to my planning arsenal. I carry them everywhere I go in order to keep track of appointments and jot down notes.
Yes, I look like a technological moron using my paper and pencil, but I have to do what works best for me. I tried using apps like Google Calendar, but I would forget to check the calendar because it was virtual. I also  found that the physical act of writing items down on paper helps me to remember them.
Another discovery that I made is that I am more of a "global" organizer. I like having a notebook with all of my ideas, so I can go back to those notes when I need them. I add important items to Evernote so they are easily searchable.
Action Point: So enough about me. Today's action step is to think about your current time management system and how it's working for you. Are you able to easily meet your priorities each day, or do you often feel scattered and disorganized?

Take this week to research calendar systems, planning binders, and online apps to discover new tools to help you manage your time. Try them on and if they don't work, try something else.

Use my Brain in a Binder Planner  (video plus printables) as a jumping off point for creating your own system.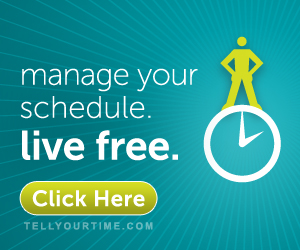 I am still encouraging you to get a copy of Amy Lynn Andrews' book Tell Your Time. This is the one book that truly transformed the way that I think about my time and enabled me to set my priorities in order.
It's cheap too! Get it for just $2.99.
What is your favorite time management tool? Leave a comment. 

As a gift to my readers, you can now print your own customizable Weekly Plan! Click here to subscribe to The Peaceful Mom Weekly eNotes and you will receive access the download link along with my e-book Stress Free Meals and some other fun bonuses.
Click the download link and type  your info for the week into the planner. Once you are done, right click the form to print and check off each task as you complete it.
(You can see all of the FREE printable planners I have available here.)
[Click here to see more time management secrets.]