Never a dull moment at our house!
I am currently on day 10 of possibly three weeks or more of bed rest to heal my knee after I suffered a knee cap dislocation. As in, this A-type personality can't really do ANYTHING at all. I am sure there is a lesson in there somewhere, like how to not be upset when someone accidentally puts your "can't-be-put-in-the-dryer-because-it-will-shrink" shirt in the dryer for 45 minutes.
I failed that test.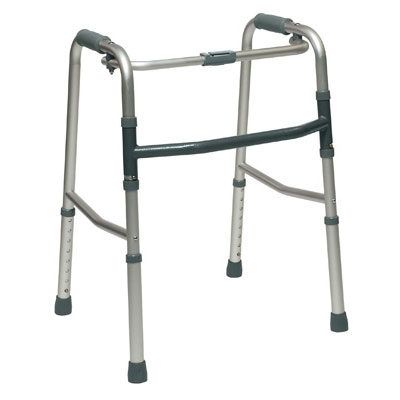 I am also learning to humbly and gratefully ask for help about 257 times a day — only mostly without the humble part of that equation. I am able to stand or sit upright for only 10-15 minutes at a time without severe pain, and I am using a walker to make it to the bathroom. I occasionally take my old lady self on difficult, brief visits to other rooms just so I don't forget what my house looks like, and so I can tell family members to clean up their messes in an irritated tone of voice. Just keepin' it real folks…
To add insult to injury, on Saturday my laptop decided to stop working. I don't have a smart phone or other mobile device, so as I contemplated being completely cut off from the outside world for the next 14-21 days, I decided to indulge in a good cry and a long nap, both of which can do wonders for your emotional state, although they do little to actually solve any problems.
Once I woke up, I hobbled my walker into the kitchen to sit for a couple of minutes while my daughter was cooking dinner. (Thank goodness for teenagers who can cook!)
Just after I sat down my daughter opened the oven door and asked,"Is that normal?" This is not something that I like to hear in reference to dinner, and it turned out to be worse than I expected. The heating element was bright orange in one spot, then that spot quickly turned bright white, and sparks started moving along the element like a stick of dynamite about to explode. To my credit, I only panicked after my first couple of attempts to put out the flames that erupted from those sparks. I may or may not have screamed hysterically for my husband, who ran in, pulled the oven away from the wall and unplugged it.
Evidently electrical fires once deprived of their power source, die down quickly. Adrenaline rushes, not so much.
So for now we are eating lots of sandwiches since we can't use the stove top or oven, and we are waiting semi-patiently for our management company to send a technician to either replace the heating element or the entire oven.
The good news is that we did not burn down the house,
and my laptop started working again.

Make Money from Home!
Click here for a complete list of The Peaceful Mom's recommended survey sites.