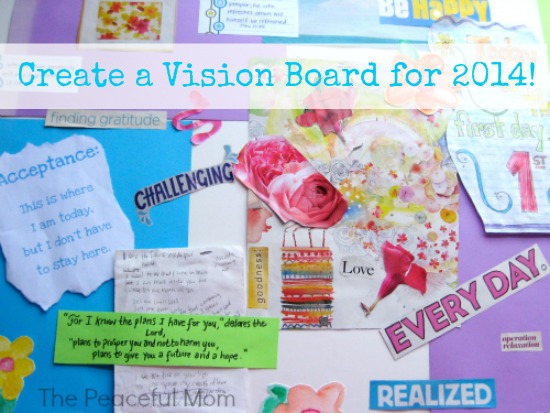 Be More: Baby steps to the life you want– starting now!
One of my favorite tasks to accomplish for the new year is to create a vision board to lay out my hopes and dreams for the upcoming 365 days and beyond.
Here is a peek at the beginnings of my vision board for this year: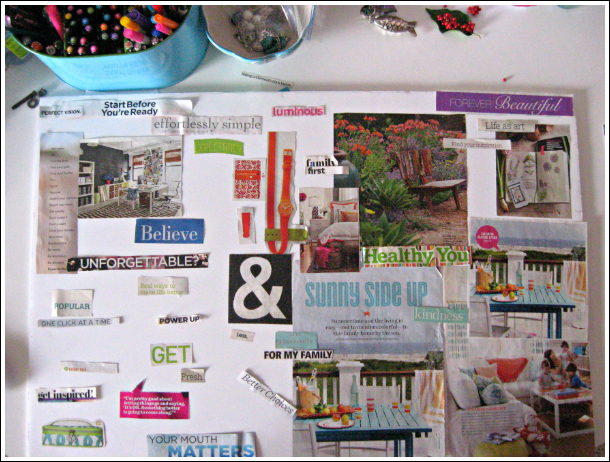 This board is a work in progress, but it's starting to take shape.
I like to use photos and words that remind me of important priorities and goals. Sometimes the photos are symbolic to represent a non-tangible concept that I want more of in my life, like simplicity or creativity. Other photos are representations of actual physical items that I am hoping for or actions that I want to take.
Making a vision board helps to inspire me and encourages me to keep going when challenges arise. The visual reminder keeps my goals in front of me and helps me to maintain my focus.
If you would like to live a more inspired life this year, click here for step-by-step instructions to create your own Inspiration/Vision Board!
If you need a little help to get started, print this Life I Life Inspiration Board worksheet and the Life Inspiration Questions here. Brainstorm some ideas to jump start your project … and have fun!
Leave a comment with your ideas or a link to your vision board!
 Click here to see all the posts in the Be More Series.
You May Also Enjoy: