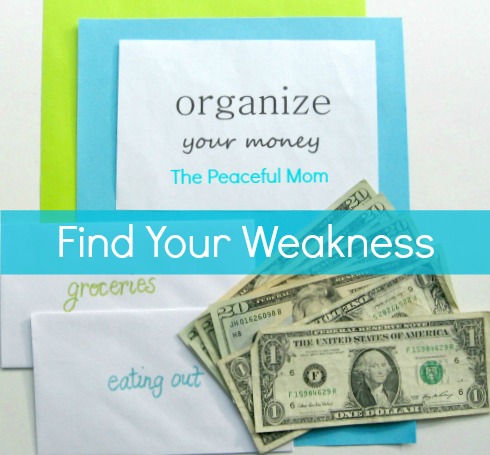 It's January, so we're talking about organization, and the first area to organize is our money!
In my last Organize Your Money Post, I encouraged you to break those financial goals into teeny tiny pieces and to make them visible. Today we're talking about what you can do to make those goals become a reality.
First, I'm going to share a profound life principle with you. Get ready. Get set. Here it is:
 What you do everyday matters more than what you do occasionally.
In other words, your daily actions will have more effect on your future, than what you do every once in a while. It's true for your diet, your exercise plan and your money. No matter which area of your life we are talking about, your daily habits determine your future.
Total downer, I know. So what can you do about it?
Identify Your Weakness
Everybody's got 'em. For Achilles it was a vulnerable heel; for Superman, that bothersome Kryptonite; for Miley Cyrus, it's disastrous career moves.
My personal issue is fast food drive-throughs. I love the idea of not having to prepare my own food, and I justify my habit by telling myself that it's only $3 (or $5 or $7). The only problem is that those small amounts of money add up quickly and before I know it, I have spent $30 in a month.
What's your spending weakness? It may be restaurants, shoes or hot pink designer purses. Whatever it is, acknowledge it, own it, confess it.
Think Bigger
Once you have identified your problem area (or areas), you need to break through the denial that the spending isn't hurting you financially. Acknowledge that redirecting that money toward a more important goal can help you reach it more quickly.
As much as I love having someone else cook my food, that $30 could have purchased something a lot more awesome than a double cheeseburger and some semi-warm fries. In order to address my spending weakness, I have to decide that I have a bigger, more important goal to work toward like finishing our emergency fund so we can start saving for a vacation to the beach.
It's not easy to break a spending habit, but thinking about the bigger picture definitely helps.
Focus on the Positive
So let's say that you've decided to forego that morning mocha-ccino-latte concoction so you can save for a trip to Tahiti. Thinking about those beaches can help prevent your next coffee purchase, but you have to take it a step further. You have to create a positive alternative to that negative pattern that you have developed.
It's much more difficult to "avoid" a bad habit, than it is to replace it with a positive habit and focus on the new action you will be taking. For example, if you want to lose ten pounds and you tell yourself that you are not going to eat Oreos, you will suddenly have an intense need for chocolate cookies with a light, creamy center. (Not that I have any experience with this issue, despite the oddly specific way in which I described it.) The random person to whom I am referring would have to create a new plan like leaving the kitchen and putting on some music when that craving hits.
If $7 coffee really is your weakness, find a new route to work that doesn't go by the coffee house, or make some delicious French roast at home to take with you. For my fast food habit, I have to plan ahead and bring a sandwich or a snack with me when I run errands.
So here's your "I'm Going to Get My Act Together" task for today: Determine a positive action that you can start right now to counteract a negative spending habit. Now promise yourself that you will try this new idea for at least the next few weeks. If your finances haven't improved by then, I give you full permission to give it up — but, you have to choose another idea to try.
To make your new plan more "real", leave a comment saying what you will be doing differently.
(Email subscribers will need to click the title of this post to leave a comment on the blog.)
If you would like more help to get your finances on track, I have some exciting news for you!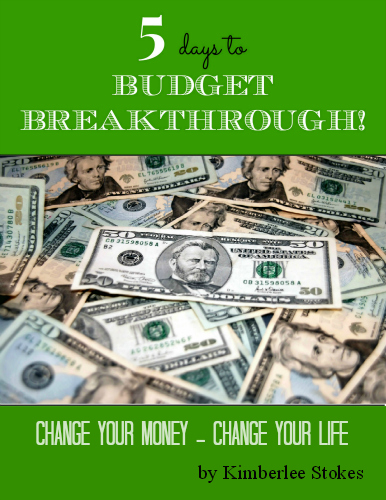 My new e-book 5 Days to Budget Breakthrough: Change Your Money – Change Your Life is here!
If you need to change the way you manage your money, you need this book. I give you practical, real-life steps to get your money on track and fast!
 Click here to read more and see what others are saying.

Click here to read the next post: Don't Forget This! [See all the Organize Your Money Posts here.]