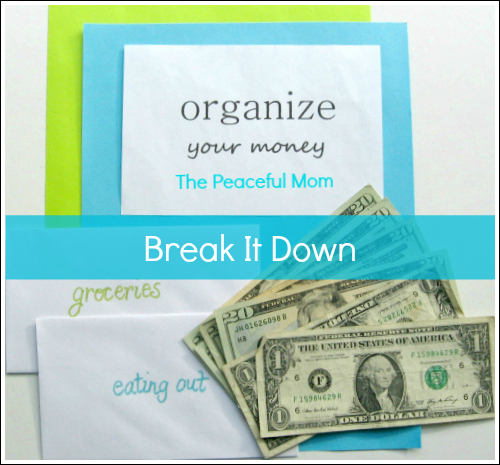 Hey, I know –  money can be such a boring topic, but using your money to live your true priorities is truly exciting!
For the month of January we are putting on the big girl pants and taking control of our financial destinies. Are you with me?
In my last Organize Your Money Post, I encouraged you to figure out exactly what you want and then to set short-term, intermediate and long-term financial goals, and I shared our family's goals with you. 
So now what? Today I'm sharing some keys to actually accomplishing those goals.
Divide and Conquer
Having a goal is a helpful step, but in order to make your financial goals a reality, you need to break them down into smaller, doable chunks. You know, like when you bring the Oreos home and hide half of them so you don't eat them all at once. Maybe that's just me.
To show you exactly what I'm talking about, let's take one of our family's goals for this year: Save $3000 by the end of 2014 (a HUGE goal for us). I can break that down into $1500 by the end of June (our 6 month target) or $250 a month. Once I know the monthly amount, I can see that we will need to add $62.50 a week to our savings to accomplish this goal.
Breaking the goal down enables me to clearly see what is needed, as in "Okay, I will NOT be buying those shoes this week." Creating a weekly amount encourages me to take immediate action with each paycheck rather than having some vague and distant goal in the future. Just to clarify: When you're telling your co-workers what happened on vacation, vague can be good. With financial goals, not so much.
Write It Down
Once you have a specific weekly goal, you need to write that thing down! Write it on a sticky note in your calendar, use a dry erase marker to write it on the window or scrawl it on the mirror in lipstick – just write it somewhere! Keeping that goal visible reminds you that you have a bigger goal than ordering that pizza delivery. Cereal for dinner tonight kids! To be successful you've got to translate that big, whopping goal into everyday actions.
Save It First
Speaking of everyday actions, let's talk about that next paycheck you're about to get. Before my financial awakening, I spent the money as soon as it hit the account and then looked around a few days later and wondered where it all went. To prevent this same scenario from re-playing in your life, you need to come up with a plan BEFORE the money is deposited. Set up automatic withdrawal now, or make a note in your calendar to transfer the money to savings before you pay any other bills. Paying yourself first will enable you to meet your goal rather than spending your paycheck and ending up dazed and confused.
Reward Yourself
Working toward financial goals requires you to act like an adult which doesn't feel like fun sometimes. To motivate yourself, choose something to reward yourself with when you meet a goal.
For example, when you save $500 into your emergency fund, you can treat yourself to a specialty coffee or some other little extravagance that you have foregone while trying to meet the goal. Just make sure that your rewards do not undermine your overall goals (like spending $200 on clothing because you have just saved $500).
If you would like more help to get your finances on track, I have some exciting news for you!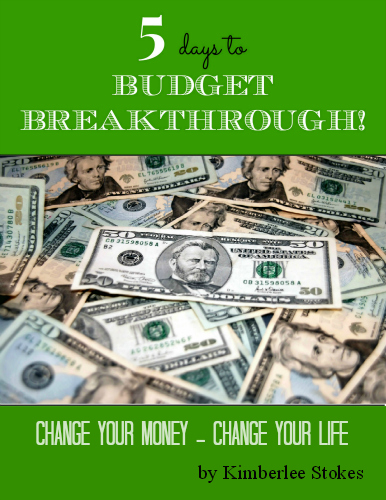 I have just written a new e-book 5 Days to Budget Breakthrough: Change Your Money – Change Your Life!
If you need to change the way you manage your money, you will want to check out this book. I give you practical, real-life steps to get your money on track and fast!
In honor of January being "I'm Getting My Stuff Together" month, the book will be available tomorrow.
[UPDATE: Click here to read more and get your copy!]
Click here to read the next post: Find Your Weakness.