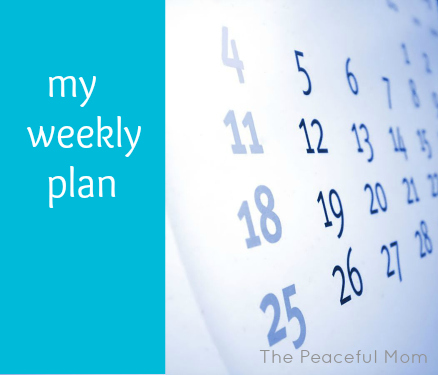 Get Organized! Manage your time, simplify your life and live your true priorities with a weekly plan.
Take a look at my plan and create your own with my FREE customizable planner! Read more details about how I plan here.
(I am trying to catch up from being sick this past week, so no artwork today.)
PERSONAL –  walk 5 days, daily "brain dump", take supplements, drink 6-8 glasses of water every day
PEOPLE –  date with my husband, take 15 year old shopping, call a friend I haven't talked to in a while
PASSION –  art journal, read daily, spend time outside
PURPOSE – (wife) be extra nice to my husband this week, (mom) give hugs to my kids daily, (encourager) write daily
PROJECTS – finish Christmas shopping, wrap gifts, work project

Last week my weekly plan (see it here) went out the window because I was sick for several days. I did take my son shopping and I did make it to part of one of our family outings, but the rest of the week my husband took the kids without me. It was a disappointment, but I am so glad that I took the time to rest and recuperate.
This week my goals are simple: finish Christmas shopping and finish a work project. FINISH! 🙂 I am also re-committing to my daily "Brain Dump" (read more here). I have not been doing one every morning and I really notice a difference in how my day goes and how organized I feel.
What do you have planned this week? Leave a comment. 🙂

As a gift to my readers, you can now print your own customizable Weekly Plan! Click here to subscribe to The Peaceful Mom Weekly eNotes and you will receive access the download link along with my e-book Stress Free Meals and some other fun bonuses.
Click the download link and type  your info for the week into the planner. Once you are done, right click the form to print and check off each task as you complete it.
(You can see all of the FREE printable planners I have available here.)
You May Also Like: