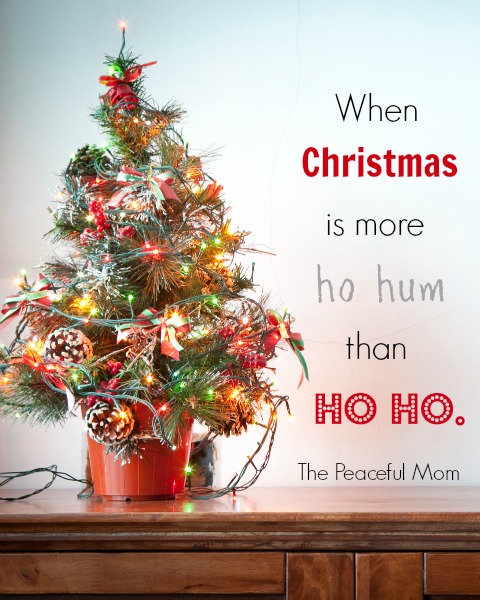 For the record, I like the idea of Christmas – joy, peace, sugar plum fairies and all that. The reality of Christmas can be less than wonderful, however.
blah. bah humbug. blech.
I definitely don't want to be a Grinch, but this year the Christmas season looks strikingly different for our family than what I expected. We had planned a semi-elaborate two day family event complete with a hotel stay and dinner out. The plans didn't work out, however, because money is tighter than we expected, I am sick and two of my teens just need to sleep so they don't become sick as well.
What started out as family fun became my husband taking two children on an outing today with the other half of the family staying home. Oh well.
Gift giving and Christmas dinner won't look like I expected because some in our family will actually be working Christmas Day.
Maybe your holiday season isn't turning out the way you expected either. So what are you doing about it?
Personally, I am choosing to focus on what is good in my life. I am choosing to be grateful for time to rest, for the time that I do have with my family and for the money to meet our basic needs.
If I simply look at this day as another day in my life and try to do the best I can to love those around me and enjoy what I have, then I can resist disappointment and depression.
I can focus on the positive and choose to enjoy the little things in life like snuggling up with a cup of hot cocoa to watch a movie with the kids. I choose to enjoy this day, this week and this season, no matter what happens or doesn't happen.
How are you making this a beautiful day, week and season no matter what happens? Leave a comment.
If you'd like some ideas for overcoming the Ho Hum's, read my post Dealing With Holiday Depression.
photo credit: Wong Mei Teng