DIY Gift Idea: Trail Mix Bark
I love giving homemade gifts for Christmas, but I like to keep them simple, relatively inexpensive yet not cheap looking. This Trail Mix Bark is my new favorite.
[Save money and stress this Christmas! Sign up here for my Weekly eNotes and grab a copy of my FREE Happy Holidays Planner!]
6 squares chocolate almond bark
1 1/2 cups mixed nuts (we used unsalted walnuts, pecans, hazel nuts and almonds)
2 tablespoons dried cranberries (optional)
1/8 cup sweetened coconut flakes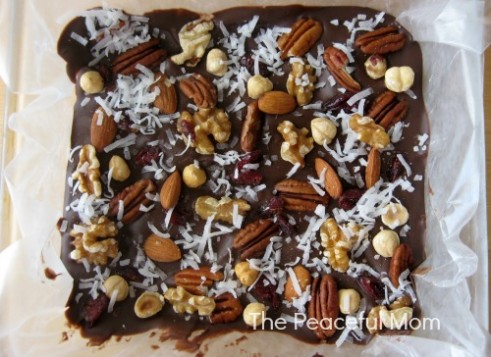 Instructions
Place chocolate squares into a glass bowl and microwave for 45 seconds.
Remove bowl from microwave and stir for about 1 minute or until chocolate is smooth and liquid. (If stirring does not completely melt chocolate, return bowl to microwave for 30 seconds and stir again.)
Line an 8×8 baking pan with wax paper.
Pour melted chocolate into baking pan and spread it evenly. Chocolate should be about 1/4 inch thick.
Using a spoon press nuts and cranberries into the chocolate.
Sprinkle with coconut and use a spoon to lightly press coconut flakes into the chocolate.
Refrigerate for 30 minutes to 1 hour or until chocolate is completely firm.
Break into large chunks and package in a tin lined with wax paper or food safe tissue paper. Trail Mix Bark can be stored in the refrigerator for up to 2 weeks.
Note: The quickest and simplest way to make this is with chocolate almond bark (candy coating), however the taste is a little different than regular chocolate. You can substitute 12 ounces of semi-sweet baking chocolate for the candy coating, but you will need to melt it in the top of a double boiler over simmering water, stirring constantly.
Rather than using an 8 x 8 dish, you will need to use a 9 x 13 dish and about 1/2 cup additional nuts, 1/8 cup dried cranberries and 1/4 cup shredded coconut.
Refrigerate for 30 minutes to an hour and it is ready to break apart and package.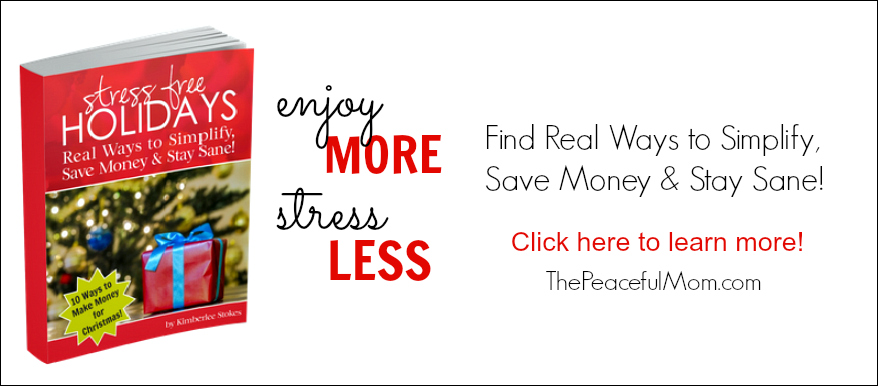 Need more ideas to simplify and enjoy your holiday season? My new e-book Stress Free Holidays has real-life ways to save money, have fun and deal with tough situations like allergies and difficult relatives. 

Click here to see what's inside!