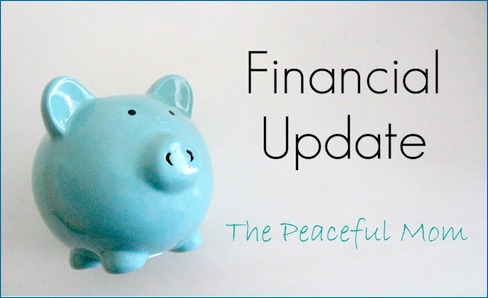 Do you ever wonder how other family's finances work? I am not a financial role model by any means, but maybe you can be encouraged by reading about our struggles and successes in the money area.
Spending
Our goal for November was to spend as little as possible so we could save for Christmas… and then I went over-budget in almost every category.  
I spent $528.91 on groceries ($28.91 over budget), $75.94 on household and toiletry items ($25.94 over budget), $85.05 on miscellaneous spending including $50 for one of my children to take the SAT test, and a whopping $90.17 on eating out, half of which resulted from taking friends out to lunch and the rest from fast food runs ($40.17 over budget).
I did keep the clothing expenditures to $10.99 ($25 budget) and we spent $0 on entertainment for the month.
Saving
In spite of over spending in most of our budget categories, we did make more money than we expected to this month. This allowed us to put a few hundred dollars into our emergency fund which we had depleted with our move to the new house in August. It is still not back to the $1000 we would like to have, but at least there is something in the account.
December Goals
Our goals for December are to spend as little as possible on Christmas and keep the money in our emergency fund. Thankfully the kids are old enough to understand and we have set limits on Christmas gifts throughout their lives, so it won't be a big surprise this year. We have several inexpensive activities in our area in which to participate, so we will still have fun together.
What are you doing to limit your holiday spending? Leave a comment so we can encourage each other! 🙂
(Email readers will need to click through to the blog to leave a comment.)
You May Also Enjoy: