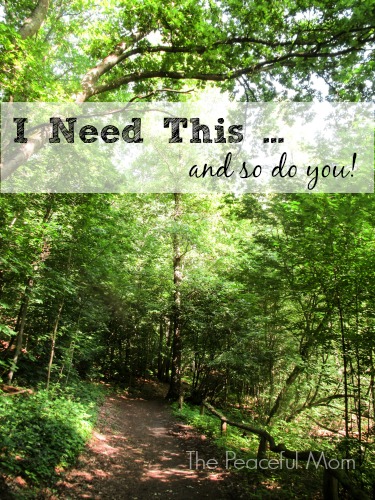 You've probably heard the saying,"When Mama ain't happy, ain't nobody happy."
So. True.
Well, Mama hasn't been happy lately because I have not been taking care of myself. One of the things that I regularly enjoyed before we moved in August was my weekly walk at a local botanical garden. Our membership expired just before we moved and I have to drive a few extra miles to get there now, so I had not been back.
Last week I decided to make a visit even though I would have to pay the $10 entrance fee and I had way too much to do.
I am so glad that I did.
I realized during my 2 hour visit that I NEED time in nature. It restores me, centers me and gives me so much peace. It is essential for me to get away from the stress and noise of everyday life. After spending time among the trees and flowers, I felt energized to take on whatever came up.
Interestingly enough, when I returned home, I found a link to research that reveals that we all need time in nature to ensure our well-being.
A series of studies published in the June 2010 issue of the Journal of Environmental Psychology found that people who spend time outside in nature feel more alive. Richard Ryan, professor of psychology at the University of Rochester states, "Research has shown that people with a greater sense of vitality don't just have more energy for things they want to do, they are also more resilient to physical illnesses. One of the pathways to health may be to spend more time in natural settings," says Ryan.
I realize that it's not the best time for outdoor activities where some of you live, but as long as it is not physically dangerous (as in, you will get frostbite if you spend more than five minutes outside), make it a priority to enjoy some time in nature this week. You will feel better physically and mentally.
Here is a look at my plan for this week:  
PERSONAL– (habits that keep me healthy and happy)
walk/run 5 times this week (outside!)
daily "Brain Dump"
drink 6-8 glasses of water daily
take supplements daily
PEOPLE– (activities that promote relationship with the people I love)
date with my husband
driving practice and ice cream with daughter #1
date with daughter #2
PURPOSE– (tasks that enable me to fulfill my purpose in life)
write daily
work on new course I am developing
encourage as many people as possible
PASSION– (activities and experiences which enable me to enjoy life)
read at least 1 chapter a day (I have about 20 ebooks I want to read)
spend time outside!
art journaling
PROJECTS– (priority tasks that need to be finished this week)
clean garage
decorate house for Christmas

As a gift to my readers, you can now print your own customizable Weekly Plan! Click here to subscribe to The Peaceful Mom Weekly eNotes and you will receive access the download link along with my e-book Stress Free Meals and some other fun bonuses.
Click the download link and type  your info for the week into the planner. Once you are done, right click the form to print and check off each task as you complete it.
(You can see all of the FREE printable planners I have available here.)
You May Also Like: