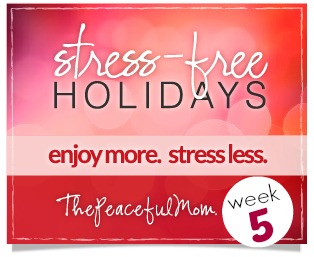 Now that we are officially done with Thanksgiving (except for the leftovers), it's time to move on to Christmas. Join me for the next few weeks for my simple plan to enjoy a peaceful and fun holiday season. (You can subscribe here so you don't miss anything!)
This week's Stress Free Holiday Baby Steps are: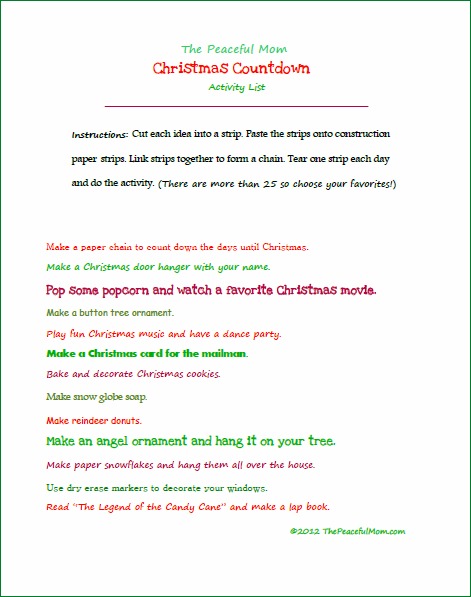 Start Your Christmas Countdown
I mentioned the countdown last week, but just wanted to remind you because December 1st is actually this Sunday! Print my free Christmas Countdown Activities here for fun, kid-friendly activities for every day in December.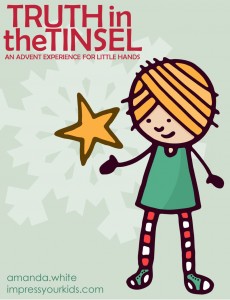 You may also want to take a look at Truth in the Tinsel, an e-book that includes crafts, DIY ornaments and Bible verses to countdown the days. Peaceful Mom readers can get 20% off using my exclusive discount code PEACEFULMOM20 (valid for the e-book only).
Other Christmas Countdown ideas: 
Candy on a String – Hershey's Kisses or candy canes glued on a ribbon. (Thanks Jenny!)
Pretty Boxes – Wrap jewelry or other small boxes in Christmas paper, (include a treat or a clue as to where to find one). Paste numbers on top for each day leading up to December 25th.
Tiny Cards – Write one activity or verse on each of 25 small cards (such as gift tags), place the cards in small envelopes and write the numbers 1-25 on the outside.
Pocket Advent Calendar – Check out a cute pocket advent calendar using gum at My Little Moochie.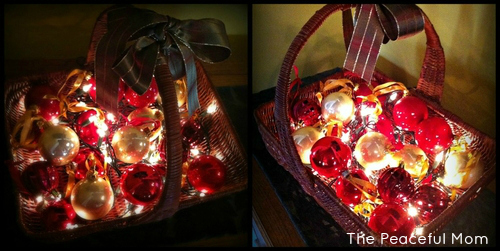 Decorate Your Home
The second step for this week is to start decorating for Christmas if you haven't already. Keep things simple with a greenery swag or a rosemary tree on the mantle and a wreath on the door. Click here for my Simple and Frugal Christmas Decor ideas.
You can also find easy ideas on my Christmas Decor – The Easy Way Pinterest Board here.

Prepare Holiday Cards
If you are sending out Christmas cards, now is a great time to print your labels or hand address your envelopes. If you haven't ordered cards yet, Cardstore has a 50% off holiday cards and invites this weekend with FREE shipping on orders over $30.
Click here and use code CCN3275 at check out. (Valid through 12/1/2013.)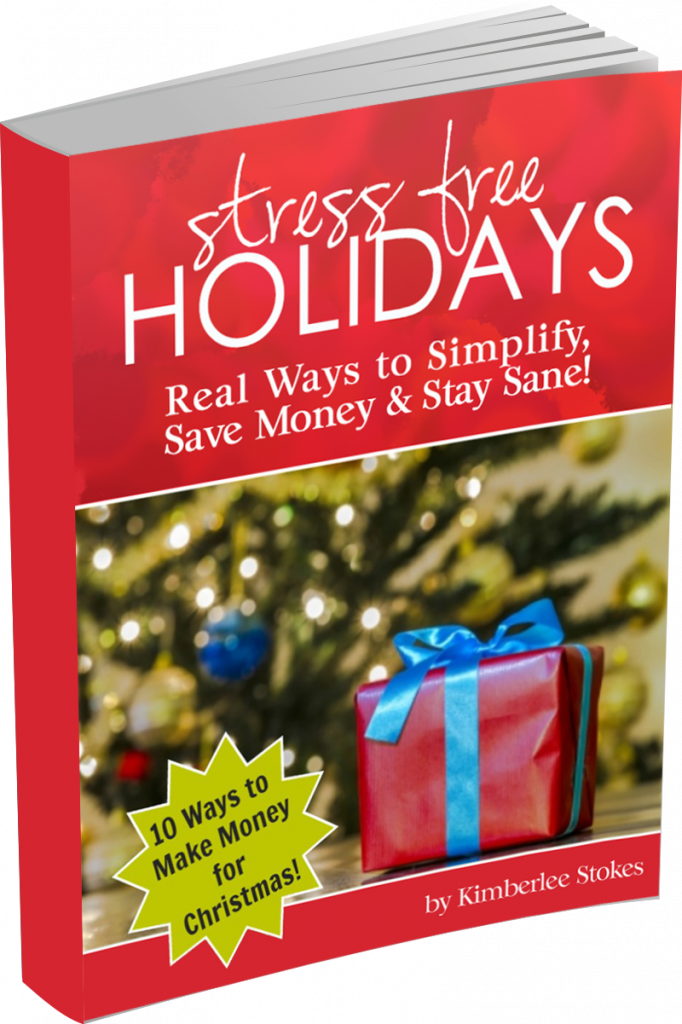 Want more ideas to keep the holidays as stress free as possible? In my new e-book Stress Free Holidays you'll find easy ways to save money on gifts and other holiday expenditures, real life ways to simplify and organize, recipes for dishes to take to your next party, creative gift and decorating ideas, as well as great advice for dealing with difficult relatives. I even include 10 Ways to Make Money for Christmas!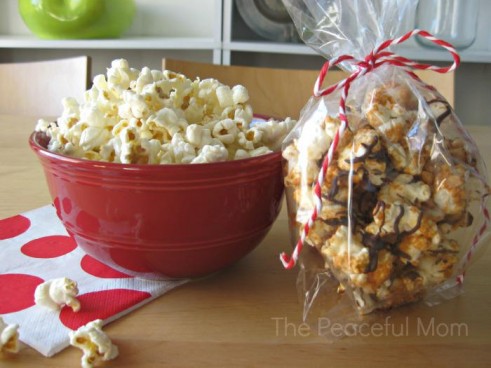 You will also get budget-friendly DIY gift ideas like the Gourmet Popcorn Recipe pictured above.
Click here to read more and watch my Stress Free Holidays video clip.
 [See all  Stress Free Holidays Baby Steps posts here.]
{Click here to Pin This Post to Your Holiday Board}