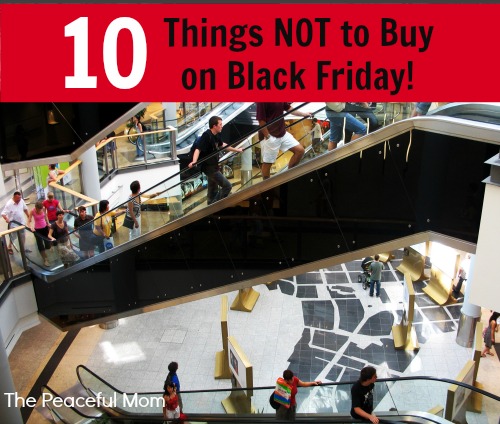 Black Friday is almost here and I know some of you will be out hunting down the deals. I won't be joining you, but I did a little research for you to find the top 10 Things NOT to buy on Black Friday:
Toys – Surprisingly toys are not at their best prices during Black Friday sales. If you are willing to wait, you can find the lowest pre-Christmas prices around the second week of December. Of course, if your child wants a hot item, buy it now and return it if you find a lower price later.
Jewelry  – Another surprise but jewelry and watches are not a great buy this time of year precisely because it is the time of year when most people buy them.
Brand Name Televisions – Black Friday is generally a great time to buy televisions but not name brands. DealNews.com notes that Thanksgiving Day is actually the best day to find a name brand HDTV deal, or wait until the end of the year.
DSLR Cameras– It's tempting to buy a camera to capture those Christmas memories but you will pay much less if you wait until after February when new models are announced and the old models are discounted.
Winter Coats and Jackets  – You will typically find the best deals on winter coats and outerwear in January but you may be able to find other winter clothing at a deep discount with some of the most impressive apparel coupons at major retailers coming out this weekend. Cyber Monday deals on clothing and shoes are worth taking a look at.
Blankets and Bedding – Just like winter coats, the best deals on blankets and bedding can be found in January along with other household items at the "White Sales", so named because in years past sheets and towels were primarily white.
Christmas Decorations – These are probably not on your Black Friday shopping list, but may be an impulse buy when you see that "too cute to pass up" garland or stocking. You should at least wait until the two weeks before Christmas to get a lower price, and of course the best prices will be after Christmas (although, that particular item your eyeing may not be available.)
Video Game Consoles – Game consoles are a hot selling item during the holidays, so prices are not often lowered significantly for Black Friday. The exception is the bundle deal when a console is packaged with free games and accessories. Just make sure that the games are something your family will enjoy playing, or it's not a good deal for you.
Exercise Equipment – Yet another item that may not be on your list, but if it is, wait until January to get the best prices. Better yet, check a second-hand or consignment store around the middle of February when most people have abandoned their New Year's Resolutions and dump their expensive equipment.
Android Smart Phones – While the best deals on iPhones have typically occurred on Black Friday in past years, android phones have seen deeper discounts on Thanksgiving Day.
The best advice for saving money on Black Friday is to know what you want, do your research ahead of time and plan to buy only what you need. Impulse buying is exponentially increased in the frenzied environment of Black Friday, and you can very easily blow your entire holiday budget while searching for "deals".

To help organize your shopping, print my FREE Black Friday Shopping Planner.
It's part of the FREE Happy Holidays Planner you can grab when you join The Peaceful Mom Community HERE.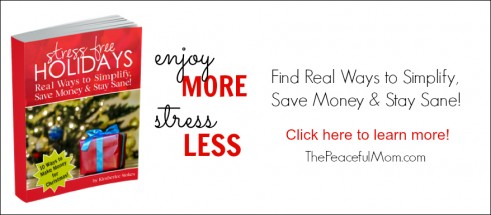 If you need a stress free holiday season this year, you'll want to get a copy of my new e-book Stress Free Holidays! Inside you'll find easy ways to save money on gifts and other holiday expenditures, real life ways to simplify and organize, recipes for dishes to take to your next party, creative gift and decorating ideas, as well as great advice for dealing with difficult relatives. I even include 10 Ways to Make Money for Christmas!
Click here to see what's inside!

Want to know the best times to buy stuff? Print my FREE Best Times to Buy Everything Chart here.
Sources:  DealNews.com, FoxBusiness.com
Click here for DEALS & FREEBIES to help you save money!