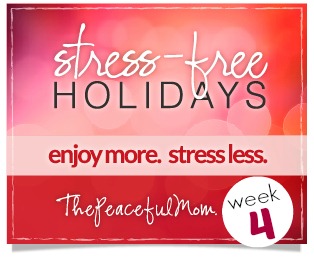 Hard to believe but Thanksgiving is NEXT week – yikes! Today I am continuing my Stress Free Holidays series to help you simplify and plan so you can enjoy more and stress less. Join in and follow the steps so you can enjoy a peaceful and fun holiday season! (You can subscribe here so you don't miss anything!)
This week's Stress Free Holiday Baby Steps are:
Stock Up
Now is the time to stock up on baking supplies for the holidays. Not everything will be on sale, but you can find low prices on most staples such as flour and sugar. This is also the best time of the year to purchase turkey, so think about purchasing an extra one or two for the freezer. Sweet potatoes and pomegranates are also at their best prices of the year.
Want to know more about what time of the year to purchase items for the best price? Print my FREE Best Times to Buy Everything chart here.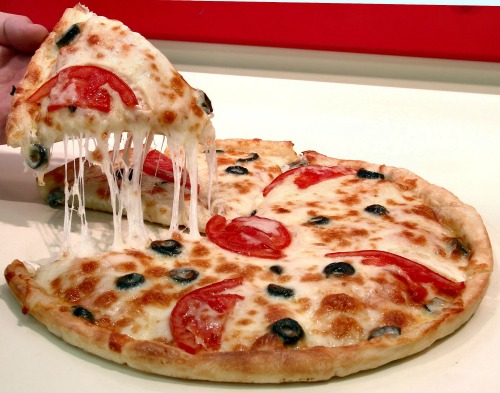 Think About Meals for December
Everyone has to eat, the question is how. Make a plan now so that you can stay out of restaurants when things get busy in December. A quick way to plan your meals is to use my favorite service eMeals. You receive a weekly meal plan, grocery list and easy recipes for $10 a month for a 3 month plan — a great investment if you struggle to keep your grocery bill in check, or spend lots of money eating out.
Click here and enter CYBER in the coupon/voucher section to get 30% off eMeals already low prices! Plus, new subscribers receive a free Paleo, Clean Eating or Classic Holiday Menu as well.
Check out my Easy Meal Planning post here for other ideas to help you get dinner on the table with the least amount of stress possible.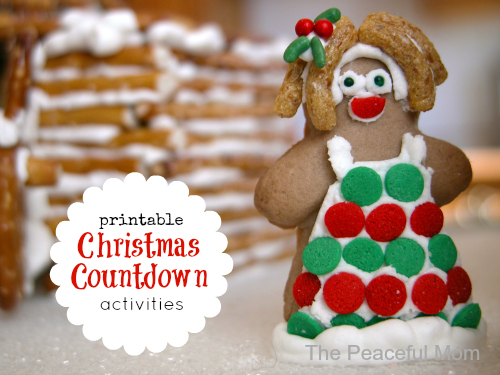 Plan Your Christmas Countdown
If you have children, counting down the days until Christmas morning can be one of the best parts of the season. One of our favorites is our M&M countdown which you can find out more about in my 5 Fun Family Traditions video here.
You can also print my free Christmas Countdown Activities here for fun, kid-friendly activities for every day in December.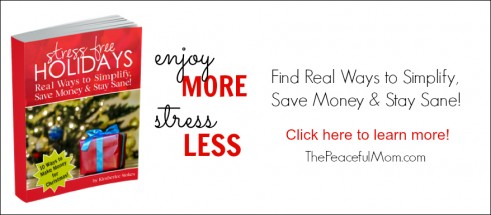 If you need a stress free holiday season this year, you'll want to get a copy of my new e-book Stress Free Holidays! Inside you'll find easy ways to save money on gifts and other holiday expenditures, real life ways to simplify and organize, recipes for dishes to take to your next party, creative gift and decorating ideas, as well as great advice for dealing with difficult relatives. I even include 10 Ways to Make Money for Christmas!
I want to help as many people as possible, so for the next few days I am offering an early Black Friday discount of $5.00, making the book just $4.95 — that's over 50% off! Use code HAPPY at checkout to get this low price.
Click here to read more and watch my Stress Free Holidays video clip.
 [See all  Stress Free Holidays Baby Steps posts here.]
{Click here to Pin This Post to Your Holiday Board}
You May Also Enjoy: