This is a Sponsored post written by me on behalf of Piccadilly Restaurants. All opinions are 100% mine.
If you've spent any time around The Peaceful Mom, then you know that I am all about enjoying Stress Free Holidays! I want to spend time enjoying my family in a calm, enjoyable atmosphere, not feel pressure and stress from having to produce a delicious AND beautiful meal.
Maybe you are someone who revels in the glory of producing an amazing Thanksgiving dinner, and you can pull it off without a hitch. I am not that woman. Just look at my turkey from last year: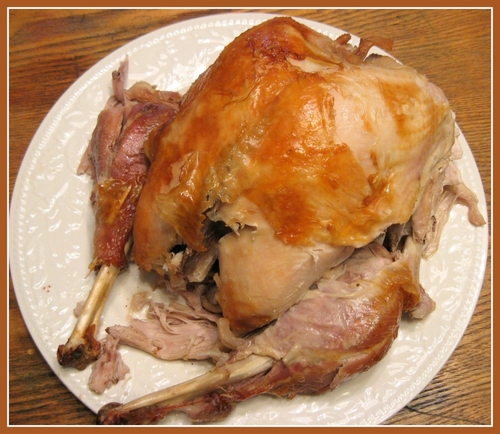 Yep, sad but true.
One year, I completely avoided cooking by convincing my kids that having a Charlie Brown Thanksgiving was "super fun". Yes, I fed them toast, popcorn and jelly beans. Not getting the Mother-of-the-Year Award for that one.
If you're like me and struggle to prepare a t.v. worthy holiday meal, why not take a break from cooking and order your meal?
Now, doesn't that look better?  This Holiday To-Go dinner is from Piccadilly. They have Holiday Feasts To-Go for Thanksgiving and Christmas with your choice of turkey or ham, along with all the extras you would expect. Each feast can serve 10-14 guests, so they are perfect for those large family gatherings.
If you prefer a smaller gathering, Piccadilly offers Junior Holiday Feasts which will feed 4-6 people. You can also order sides or desserts à la carte if you have the turkey covered and just want a little something extra on the side without a lot of work on your part.
Another great aspect/feature of the Holiday Feasts To-Go is that you only need to order 36 hours in advance of the date you want to pick up the food, and the price is very reasonable. The Holiday Feast To-Go is $54.99 for turkey or ham, and the Junior Holiday Feasts are $29.99 for turkey and $25.99 for ham. That's what I call a Stress Free Holiday meal!
Need an easy gift for someone on your list? You can choose a Piccadilly gift card so friends and family can enjoy a nice, relaxed dinner out while eating homestyle food without the hassle of cooking it themselves.
For every $50 spent on gift cards now through December 31, 2013, you will receive a $10 savings card which can be used towards a Piccadilly purchase from January 1 – January 31, 2014 at participating restaurants.
You can also like Piccadilly Restaurants on Facebook and follow @EatPiccadilly on Twitter.