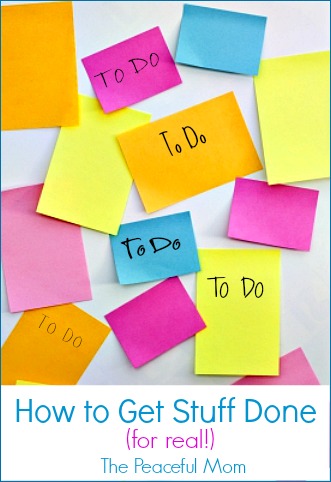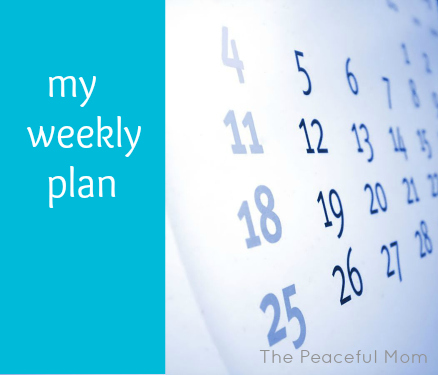 Get Organized! Manage your time, simplify your life and live your true priorities with a weekly plan.
Take a look at my plan and create your own with my FREE customizable planner! Read more details about how I plan here.
Creating a plan for the week is great, but how do you actually get things done? This week I am sharing a few tips that enable me to accomplish more.
Know What You Want
To get what you want, you have to know what you want. I like to take time on a regular basis to think about the big picture of our family's life and where we want to be in the future. I then attempt to align my daily and weekly plans with those long term goals and desires.
Many times I procrastinate because the task ahead of me isn't really pleasant, but if it is connected to a deep desire, I am much more motivated to complete it.
For example, I don't love making a plan for our money every paycheck, but I have experienced the consequences of spending money impulsively, and I have a deep desire to experience financial peace rather than chaos. That desire motivates me to complete the unpleasant task of budgeting.
Make Your Plan Visible
Maybe you are the kind of person who remembers everything without writing it down, and you have never missed a deadline or forgotten an important task. I am not that person, and I am actually so easily distracted that I can create a plan and then forget about it within 30 minutes. So, I have to make my plan plainly visible.
I use a small planning notebook that I keep on my desk and carry with me when I leave the house. You can set reminders on your smart phone or tape your planner to the front of your fridge, but if you're like me, you will need to see your plan to remind you to stay on track.
Use a Calendar
It may seem obvious that you need a calendar, but owning one and actually using it are two different matters entirely. The key is to find a calendar that works for you: Google calendar, calendar apps on your smart phone, pocket calendars or printable calendars you can post on your fridge (print a free calendar here) will all work, IF you use them. Scheduling those tasks that you want to accomplish empowers you to actually get them done, which enables you to live life intentionally and reach your goals.
Schedule Priorities First
I know in my own life, if I don't schedule those important items like alone time with my husband, taking my 12 year old out for a Mommy dates or teaching my teenage daughter to drive, the urgent tasks (or time on Facebook) take over. Schedule your true priorities on your calendar first before another week passes without you accomplishing your true life goals.
Create a Habit
Your calendar/planning system won't help you if you don't check it. Create a habit of looking at your calendar first thing in the morning to start your day in the right direction (or maybe after your first cup of coffee!). You can also set alarms on your phone, or create a routine of checking your calendar after you accomplish certain activities in your day.
My Plan For This Week
You can see my plan for last week here. I did make more time to enjoy creative endeavors and I feel very refreshed this week. I also enjoyed time with a friend and a little date with my 12 year old, as well as a fun date with my husband walking around a lake in our area after eating cheap burritos. (We actually spent $7 for both of us!)
While I made more time for creativity during the week, this weekend was a little busier than I anticipated because of some unplanned events, so I did not have time to create my usual art journal Weekly Plan. I'll share the simple version of my plan for this week:
Personal: walk/run 4 days, drink 6-8 glasses of water daily, daily brain dump (read more here)
People: the usual weekly date with my husband, individual time with my 16 year old
Passion: art journal, read daily, research creativity
Purpose: write daily, work on new book
Projects: clean out one box in my garage, work on Christmas gifts
What do you have planned this week? Leave a comment. 🙂
Want to be more organized?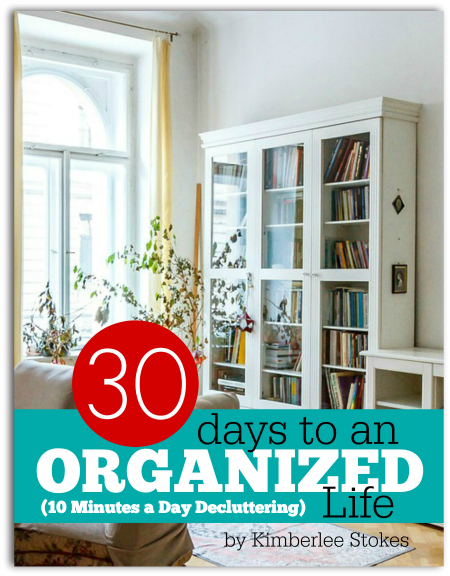 Join our 30 Days to Organized Community
and grab my FREE 10 Minute Decluttering Tool Kit.
Click HERE to join!
photo credit: audfriday13; FreeDigitalPhotos.net
You May Also Like: