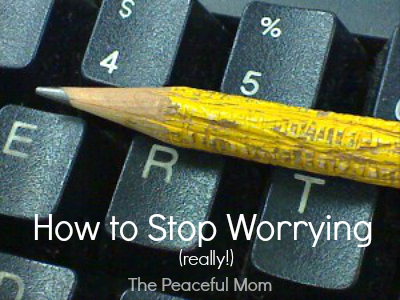 Be More: Baby steps to the life you want– starting now!
Have you experienced your heart racing lately? Do you lie awake at night thinking about problems? Do you have nervous habits like biting your nails, or your pencils?
You, my friend, are dealing with anxiety, worry and stress — emotions that we all experience, and emotions which are all based in one thing: FEAR.
When we feel worried, anxious and afraid our bodies respond with that adrenaline rush that scientists call the "fight or flight" response. (You learned about it in school, remember?)
So awesome! We can run away from predators like ferocious saber tooth tigers. …Oh yeah, you don't hear about too many tiger attacks in the news today, do you?
What we do get attacked by are thoughts and fears about finances, family issues, job problems and whether the world's supply of chocolate will run out (or maybe that's just me).
Living with all this anxiety causes ulcers, heart palpitations, and a myriad of other problems, even weight gain.
I am sure that this is not news to you, so the question is: What can we do about all that worry? 
If I asked you to tell me the antidote to anxiety, you would probably say "peace", or maybe " medication". If you're a Christian, you might say "faith". I would have said that too, until I read this:
"There is no fear in love. Perfect love drives out fear …The one who fears is not made perfect in love." (I John 4:18 NIV)
Or as it says in the New Living Translation:
 "We need have no fear of someone who loves us perfectly; his perfect love for us eliminates all dread of what he might do to us. If we are afraid, it is for fear of what he might do to us and shows that we are not fully convinced that he really loves us."
The antidote to fear is love.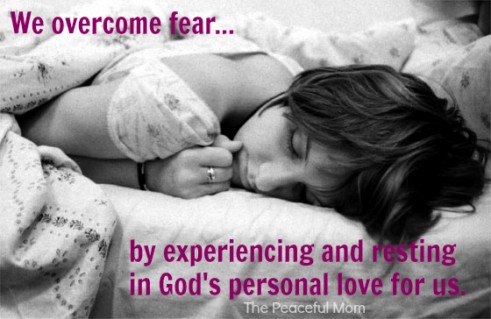 I'll tell you a story to illustrate what I mean by God's personal love. A few years ago, we sold most of what we owned to follow what we felt God was leading us to do — move to another country to work in a non-profit organization. It was a very exciting, yet challenging time in our lives.
I would have told you at that time that I was not attached to material things, but there were many items that I loved like the antique oak rocker that I rocked my babies in, the stained glass window that had been given to us, the desks that God had provided for my girls just when we needed them and for $10 each. The list went on and on.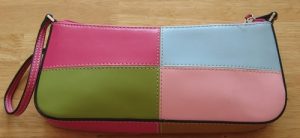 During this time of purging our belongings, I felt impressed to go to a thrift store on my way home from an errand. When I walked in I found a tiny leather purse with four color blocks. The blocks represented colors that  I had associated with each of my children for years. The purse also happened to be designed by Kate Spade. I felt God saying that He knew exactly how to provide for us in a personal and loving way, and in a way that was more than what I needed (who NEEDS a designer purse?).
Finding that purse spoke to my heart and encouraged me in a way that no human could have possibly managed (and it was $2.00 by the way).
The story doesn't end there though. I recently began thinking about purchasing a new purse. The one that I had was difficult to use because it was a huge sloppy bag and I had to dig around to find whatever I was looking for. The lining was also ripped almost completely out and was just hanging on the inside of the bag waiting to capture loose items and hide them away in a secret compartment.
I decided that I wanted a black purse with a little structure to it.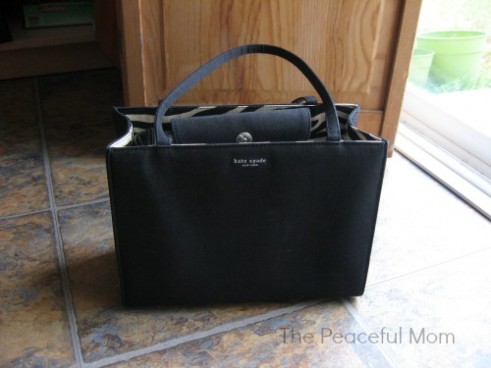 And this is what I found for $4.00 at a yard sale just a couple of days ago (notice the Kate Spade label). You may think that it is just a coincidence, but I know that it is God loving me in a way that is absolutely intimate and personal to me. I had no intentions of visiting a yard sale that day, but felt that I should stop at that particular house, and by listening to that inner voice, I received a gift.
As I experience more and more instances of God's personal love for me, I gain trust in Him. His loving gifts to me enable me to understand in the depths of my being that He IS love and He truly wants what is best for me.
My entire point in telling you this story is to encourage you to look for the personal ways that God is pouring His love out on YOU. By resting in His love, you can stop worrying, experience true peace and as Jon Acuff says, "Punch fear in the face!"
Have you experienced a tangible example of God's love for you? Share in the comments. 🙂
You May Also Enjoy: