Save Money On Groceries!
Save money on your groceries so you can spend it on other priorities! Implement my money saving tips and watch your grocery bill drop! To join in on our Saving on Groceries Challenge, just leave a comment saying that you already use the tip of the week, or that you will start this week.
[Click here to see all the tips in this series.]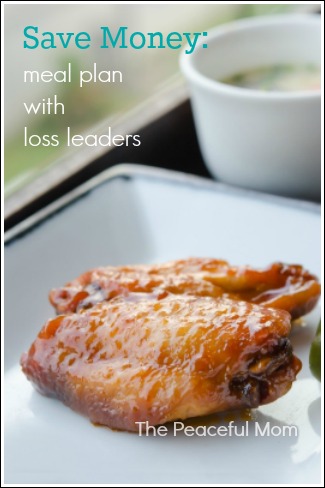 In week six of the Save Money on Groceries series, we talked about my favorite money saving strategy–stocking up on loss leaders. It's a great way to save money because you are paying the lowest price for the items and buying enough to last until the next sales cycle, so you never have to pay full price.
Once you have all of those low-priced goodies, however, to save the most money you have to actually plan your meals around them. A freezer full of chicken wings or a pantry full of 99 cent pasta sauce is pointless if you never eat the food.
I used this strategy myself last week when I stocked up on 20 pounds of ground beef at $1.99/lb–a super low price for my area. I then planned my budget weekly menu around ground beef recipes such as BBQ Pepper Jack Bacon Burgers, Slow Cooker Chili and Beantastic Taco Bowls.
By planning my menu around the items which are lower priced, I keep our grocery bill lower overall.
Reader Ellyn also plans her meals around loss leaders. She writes:  
"I know you've got lots of ideas but wanted to share how meal planning around a loss leader worked for me this week.

I found whole chickens for $.79/lb. Tonight we had roasted chicken, leftover chicken was diced and put into the freezer for creamy chicken and rice soup next week, and then I tossed the leftover skin/bones and some veggies into the crock pot to make stock after dinner.

I decided I felt like trying a 'restaurant' recipe this week: chicken and mushroom risotto. I'll be using most of this 'free' stock to offset the cost of this expensive dish, and the rest will go to the soup next week.

Building on the lessons you've given me since I've been following you I'm now shopping every 2 weeks, and rough meal planning for an entire month on the first of the month (I review the plan every 2 weeks). I've created a pretty elaborate excel spreadsheet which has cut my planning energy and shopping time (coupons, best prices, planning meals around lost leaders, 3 stores) down from 4 hours a week to 3 hours every 2 weeks. Which means I have a lot more free time! And we aren't throwing away any food which was one of my main goals for meal planning. I just wanted to let you know again that I really appreciate your blog!!"
I love that Ellyn's new shopping and meal planning strategies give her more free time. We can all use more of that!  
If you would like some help to meal plan around loss leaders, check out the resources below.
Resources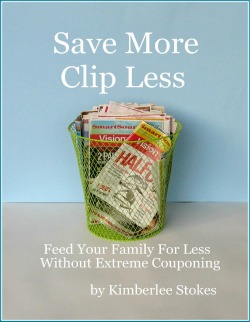 My ebook Save More–Clip Less: Feed Your Family For Less Without Extreme Couponing has step-by-step instructions for slashing your grocery bill and also has a chart of Meal Ideas with Specific Ingredients which is a terrific help when planning meals around loss leaders.

Click here to see what others are saying about this book.
You can also take a look at my Easy Meal Plans and Pinterest Boards: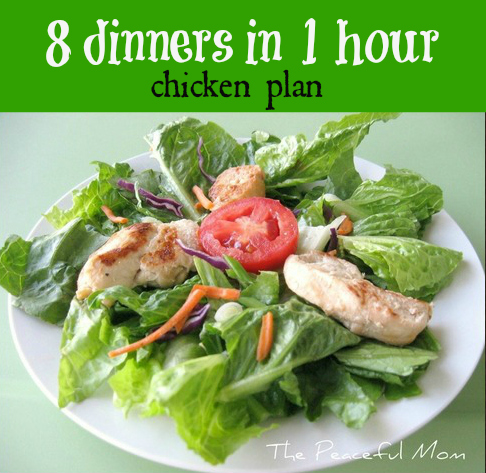 8 Dinners in 1 Hour Chicken Plan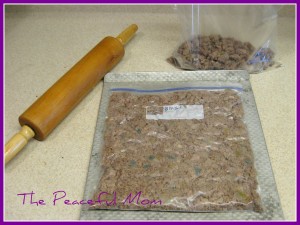 Easy Meal Planning: Ground Beef Plan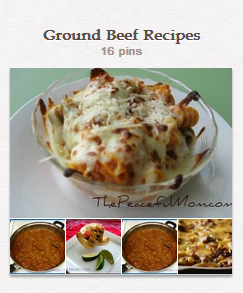 Ground Beef  Recipes Pinterest Board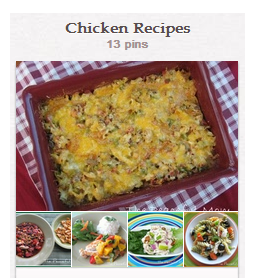 Chicken Recipe Pinterest Board
Sign up HERE for The Peaceful Mom Weekly eNotes for weekly money saving secrets & organizing tips PLUS awesome free gifts!
Do you plan your meals around the super sale items each week? How does it help you to save money? Leave a comment.
photo credit:  rakratchada torsap, FreeDigitalPhotos.net