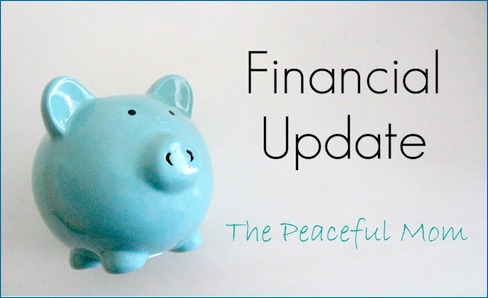 Do you ever wonder how other family's finances work? I am not a financial role model by any means, but maybe you can be encouraged by reading about our struggles and successes in the money area.
Spending
Oh. My. Goodness.
After a very "spendy" August with a move and some disorganization on my part, I had planned on having a very frugal September. Things did not work out as planned.
My three teenage girls (all with abundant flowing locks) ran out of hair products at the same time and many of our household products needed to be restocked. I spent $123, which is well over my $50 toiletry and household budget. We also spent $108 on clothes and shoes ($50 budget), $75 on eating out ($50 budget), $25 on gifts (not budgeted). My grocery shopping total for September was $526.81 ($125 per week for six people), which was only $26.81 over for the month, but still over budget.
Saving
Some of that extra money came from our savings and some of the categories in our Freedom Account (read more here). We at least have the most immediate categories funded and we have $115 saved towards Christmas, but it was basically shuffling money around within the categories rather than actually saving any money.
October Goals
Our goals for October are to truly focus on reining in the spending so we can save money for Christmas and our emergency fund. I realize that Christmas is not an emergency, but it is nice to be able to give our children something. We set the budget at $50 each per child for a gift, and $150 for Christmas activities like dinner out on Christmas Eve and some other fun activities we plan, so $350 total by December.
I would love to also have at least $200 saved into our emergency fund.
Just a reminder, start thinking about how to pay for Christmas now so that you don't resort to using your credit cards. Print out my Christmas Master Gift List here (scroll down to the Christmas Gifts Section of the post) to help you plan.
Were you able to meet any financial goals in September? Leave a comment so we can encourage each other! 🙂
(Email readers will need to click through to the blog to leave a comment.)
You May Also Enjoy: