Be More: Baby steps to the life you want– starting now!
As I continue on my journey to become more of who God created me to be, and to live the best life that I can, I have found that I am more susceptible to criticism. Friends, family members, co-workers, and even strangers can say devastating words, and even think that they are "helping"  in the process.
I am sure that you have experienced hurtful words as well. So how do you deal with criticism?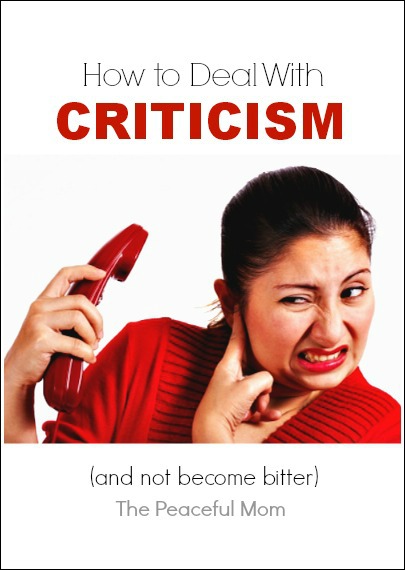 Breathe
Critical words can feel like an attack by a rabid squirrel. Adrenaline starts to flood our bodies as we enter "fight" mode to defend ourselves, and once the adrenaline starts flowing, the logical part of our brain shuts down. We are running on instinct alone, not wisdom.
This is not the time to form an answer to the criticism. Graciously excuse yourself from the situation and go somewhere quiet. Take a few minutes to breathe deeply and calm your body and mind. When you feel your heart rate slow down and your mind start to think clearly again, you can return to your normal activities for the day.
Sit On It
The word "criticize" means to judge or discuss the merits and faults of someone or something. We naturally respond negatively to criticism because deep down we know that God is the only One qualified to pass judgment on us. We can, however, consider the criticism and analyze whether or not it has any validity.
I like to ask my husband (and sometimes a trusted friend) if they think the offending words hold any truth, and then I pray about it. Maybe the words stung so much because I recognize that the person has seen a weakness in me, and I hate that weakness. Maybe the person was mostly wrong in their assessment, but there is one tidbit that I can glean from the conversation.
Recognize the Source
It's never fun to be attacked or to feel exposed, but the reality is that very often the attack is not about us, but about the person attacking us. Sometimes those around us are uncomfortable with changes we are making because it disrupts familiar patterns and forces them to look at their own lives, or they may just be hurt themselves. Acknowledging the origin of the criticism can be helpful.
Forgive
Yes, I said the "F" word.
After you have had time to deal with your emotions, realize that you should forgive the person for hurting you. Forgiveness isn't easy, but it is necessary to maintain our mental, spiritual and emotional health. Forgiveness really isn't about the person who hurt you, but about letting go of your anger and bitterness so that YOU can be healthy and at peace.
Be Fearless
Receiving criticism can shut us down emotionally and cause us to fear being open with people. I know this from first hand experience.
A few months ago I was attacked verbally by several people in a situation that completely blindsided me. I felt hurt and defensive, even though my husband assured me that the criticism was unwarranted.
Experiencing the hurt caused me to shut down and to begin to hide instead of being vulnerable with people. I put up walls so that others could not hurt me again in the same way.
And you know what?
I ended up being the one hurt. I lost the freedom to be myself and I also lost time that I could have been encouraging and helping others. My fear prevented me from impacting the lives of those around me.
I am learning that being vulnerable and living a "more" life means that criticism will come, and when it does, I have a choice. I can live a half-life, hiding in the shadows trying to avoid pain, or I can overcome any hurt by trusting God to heal my heart and allowing Him to tell me the truth about myself.
Have you experienced a hurt that you need to deal with? Share in the comments and let's encourage each other.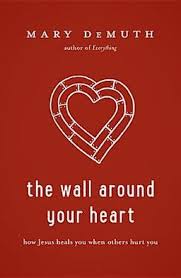 If you struggle with hurts from the past, check out my friend Mary DeMuth's book The Wall Around Your Heart: How Jesus Heals You When Others Hurt You
. Mary gives practical advice on how to deal with those hurts and overcome them, as well as her personal experience in overcoming hurts.
Click here to take a peek inside the book and pre-order it on Amazon.
 Click here to see all the posts in the Be More Series.
You May Also Enjoy:
  photo credit:  Stuart Miles, FreeDigitalPhotos.net
*Affiliate links are included in this post. Read our disclosure policy here for more information.