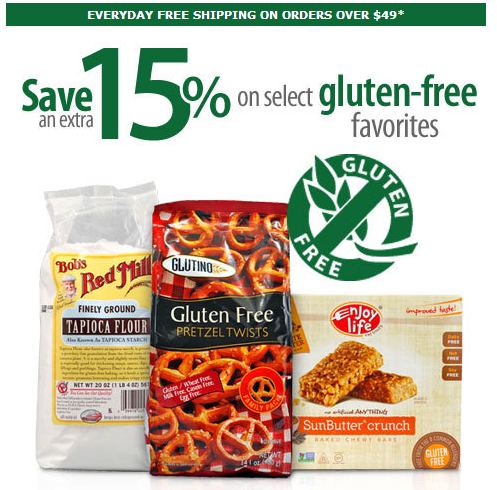 Vitacost.com is where we purchase many of our favorite gluten free foods like Glutino Gluten Free Pretzels and Bob's Red Mill Products. Right now you can get many gluten free favorites for 25% to 40% off which makes it a great time to use your FREE $10 Credit!
Click here to get your $10 FREE Credit!
Accept the terms and conditions, and create an account to get your FREE $10 coupon code.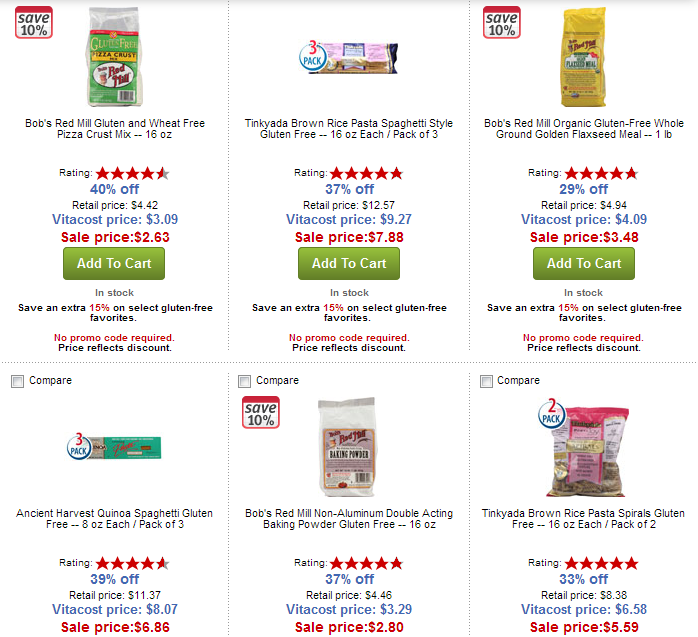 Once you have your credit, click these links to go directly to each deal: 
Bob's Red Mill Gluten and Wheat Free Pizza Crust Mix — 16 oz (47% off) $2.63
Tinkyada Brown Rice Pasta Spaghetti Style Gluten Free — 16 oz Each / Pack of 3 (37% off) $7.88
Ancient Harvest Quinoa Spaghetti Gluten Free — 8 oz Each / Pack of 3 (39% off) $6.86
Crunch Master Multi-Grain Crackers Gluten Free Sea Salt — 4.5 oz (28% off) $2.63
Annie's Homegrown Rice Shells and Creamy White Cheddar Gluten Free — 6 oz (33% off) $2.71
Remember that you also get free shipping  on all orders over $49! Offer expires 10/14/13 at 9 a.m. EDT. Exclusions may apply. While supplies last. No promo code required. Prices reflect discount.
Click here for more DEALS & FREEBIES to help you save money!
*Affiliate links are included in this post. Read our disclosure policy here for more information.