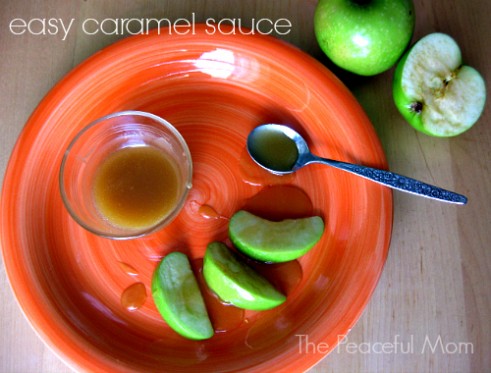 Easy Caramel Sauce Recipe
Okay, I have a confession to make. Until a couple of months ago, I thought caramel was a square candy in a plastic wrapper that you melted to use in recipes — true story.
My world has been expanded by my 16 year old who loves to bake and cook, and who introduced me to HOMEMADE caramel.
After tasting this amazingness, I will never go back!
EASY CARAMEL SAUCE
INGREDIENTS
2/3 cup salted butter (or 1/3 c. unsalted & 1/3 c. salted to make it less salty)
1/2 cup packed brown sugar
3 tablespoons heavy whipping cream
1 tablespoon vanilla extract (optional)
INSTRUCTIONS
Combine butter and sugar in a heavy saucepan.
Cook over medium heat, whisking gently until mixture comes to a full boil (about 10 minutes).
Add whipping cream and vanilla if using.
Cook 1 additional minute.
Remove pan from heat and cool 5 minutes.
Serve caramel sauce warm or pour into a glass jar, cool 15 minutes, cover and store in the refrigerator.
Yield: approximately 1 cup
I'm linking up to GF Tuesday at Easy Green Mama and GF Wednesdays!
You May Also Enjoy: