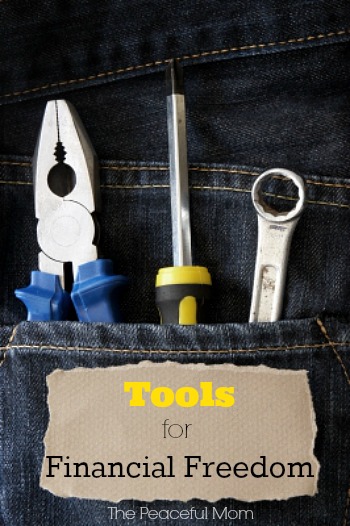 Living on Less–Tools to help you spend less so that you can save more, give more and live more.
Financial freedom–Everyone wants it, but a small percentage of the population actually achieve it.
My personal definition of financial freedom is being able to meet our family's needs and having enough leftover to save, give and live in a way that fulfills our purpose in life. It isn't so much about the amount of money we have, but how we use the money we do have.
One of the tools that enables us to work toward financial freedom is the Freedom Account–a term originally coined by author Mary Hunt (see Mary's books here).
According to Mary, the Freedom Account is a second checking account in which money is placed to pay irregular bills like non-monthly car insurance, home or car maintenance, clothing and medical expenses. It requires a spreadsheet to track the categories you are funding in the account, and the self-discipline to not spend the money as you see the checking account balance increase over time.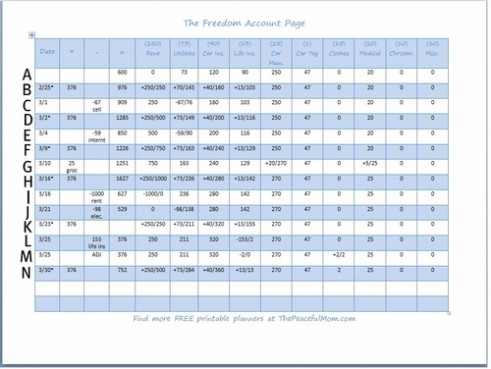 As a part of my Living on Less Than $28,000 a Year series, I wrote about how we have adapted the idea of the Freedom Account to include monthly expenses like rent and utilities. When living on a small salary, it is essential to know where every dollar is going because over-spending in one area can mean that you end up in serious financial trouble when you can't pay the rent or mortgage when it's due, or some other large bill.
While we are no longer living on less than $28,000 and have a little more room in some areas of the budget, we still choose to use a Freedom Account. Why? Because it enables us to see upcoming expenses that we might otherwise "forget about". It is so easy to see money in the bank account and spend it because the current bills are paid and it seems like extra money. I personally have this problem, and I had to find a way to "trick" myself out of spending like a crazy person.
When I transfer our money for monthly essentials (rent, utilities, cell phone) as well as the irregular expenses (car and life insurance, car maintenance, clothing and medical expenses) to a second account, it is much safer–out of sight, out of mind. It's like it doesn't exist because I only check the balance on our main account.
If we do want to spend money from the second account, we have to look at the spreadsheet to select a category from which we will take the money. I can see that spending that extra $20 will leave us short when it comes time to pay the rent, or the utilities, or that it will drain the car maintenance fund when I KNOW there will be upcoming repairs needed.
Just like any other money management system, the Freedom Account is just a tool and the real issue lies with my husband and me. We have to CHOOSE to abide by the regulations we have set up, or they won't work. I can easily break any rule in order to meet my immediate wants. The key is to have a longer term goal for which I am willing to make sacrifices. I have to have the desire and motivation to make my money work for me instead of being a slave to my whims.
If you would like help with setting up your own Freedom Account, read my detailed explanations here and here.
What about you? Do you have an tools or "tricks" that help you to control your spending? Leave a comment.
 [Click here to read more Tools for Financial Freedom posts!]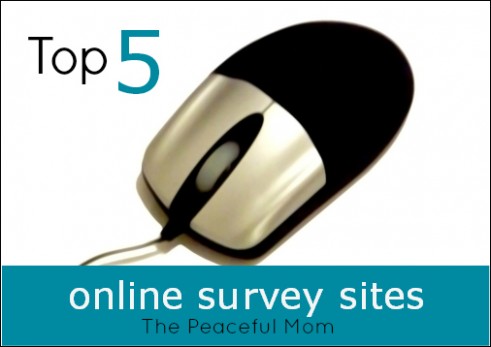 Make Money for Christmas!
Click here for a complete list of The Peaceful Mom's recommended survey sites.
photo credit: scottchan— FreeDigitalPhotos.net
*Affiliate links are included in this post. Read our disclosure policy here for more information.