Be More: Baby steps to the life you want starting now!
As I mentioned in my last post, the key to getting what you want is knowing what you want in the first place. If you have no vision and just let life happen, you will probably end up in places you never intended to be (in debt, in a job you hate, involved in activities that you are not passionate about).
I wish that someone had told me this truth at the age of 20, although when I think back, I probably would not have listened.
Today I am sharing my "more" list–my goals and aspirations for my life at this point. Maybe reading my list will give you some ideas for your own. There is always room for improvement, right?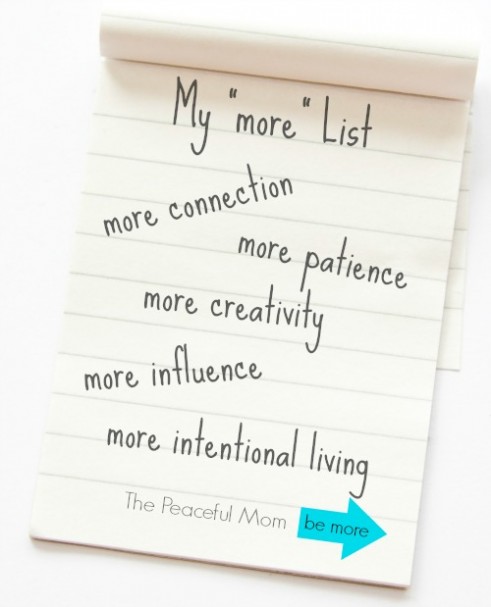 So what do I want?
To be a WIFE who respects, supports, appreciates, adores and prays for my husband more.
To be a MOM who loves, understands, instructs, and pays attention to my children more.
To be a FRIEND who listens, supports and encourages more.
To have a deeper and more intimate relationship with God.
To be more spiritually and emotionally connected.
To be more kind, caring and patient.
To be healthier and more energetic.
To be wiser, more skilled and more knowledgeable.
To be more creative.
To be more motivated, intentional and productive.
To be more generous.
I want to be more of the real me.
What's on your list? Share in the comments. 🙂
You May Also Enjoy: