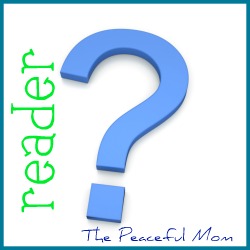 Q:
So glad I came across your website!
My boyfriend and I make plenty of money for the two of us, but somehow we always feel like we're scrambling for money two days before our paychecks. Our main problem is that we like to eat out all of the time. I recently bought Lemon Wallet, an app for spending, and discovered that we spent almost 1/3 of all of my earnings towards eating out!! We were both looking at one another thinking "how could this be?!"
I would like us to start implementing some better habits sooner than later..any suggestions? I love your blog and thanks so much for being so helpful and honest!
A:
I know exactly what you mean! It is so easy to get into the habit of eating out, and then realize later just how much money you have spent. To combat the habit, try some of these ideas that we use at The Peaceful Mom house. 
Make a Weekly Menu Plan
The one thing that helps me to stay out of restaurants is making a weekly menu plan. Even if you only write down your dinner plans and make sure that you have the ingredients on hand, you will increase your chances of actually cooking dinner. 🙂 If you would like some help with how to make a meal plan, check out my How To Make A Menu Plan post here.
You can also sign up for my favorite meal planning service eMeals*. For around $7 a month for a 3 month subscription, you get weekly menus including recipes and a grocery list. My readers can get a 10% discount by using promo code PEACEFUL. Click here to see a sample menu.
Cook Ahead
You can also cook some meals ahead of time on the weekends, so that you just have to heat them up during the week. Make a large salad, a pot of soup or chili and bake or grill some chicken and you have several easy meals for the next couple of days. You can also freeze some of the food to use at a later time.
Check out my 8 Meals in 1 Hour Chicken Plan here to give you more ideas.
Stock Stand-By Options
Stock your pantry and/or fridge with some quick options for those nights you just don't want to cook. Some of our favorites are grilled cheese sandwiches with canned or frozen soup, chicken quesadillas and Easy Chicken Stir-Fry (click links for recipes).
Make Eating Out Special
Try to change your mindset to think of eating out as a special occasion, rather than the way you eat on a regular basis. You will feel more in control when you make a conscious choice to go out to eat and budget the money, rather than going out to eat because there is "nothing to eat" or you feel tired. You will probably find that you better enjoy your experience as well.
How do you stay out of restaurants? Leave a comment with your best tips.
(Email readers will need to click this link to comment.)
Don't miss any of my tips to help you save money, get organized and enjoy life!  Click here to sign up for my FREE Weekly enotes and get FREE gifts including my Stress Free Meals ebook and my exclusive printable organizing labels!
You May Also Enjoy: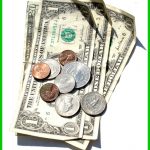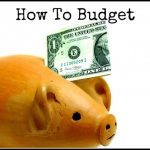 *Affiliate links are included in this post. Read our disclosure policy here for more information.