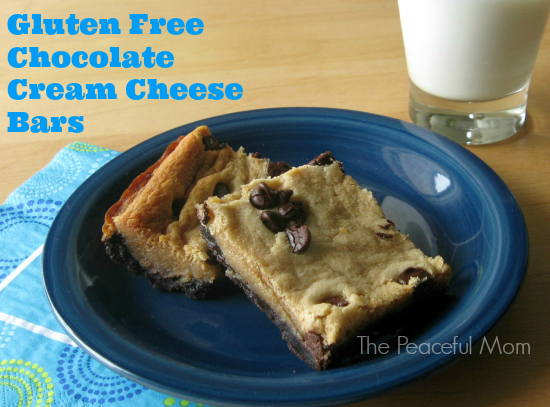 Gluten-Free Chocolate Cream Cheese Bars–Sometimes when you're eating gluten free, the thing  you miss the most is a delicious and decadent dessert. This recipe is the perfect thing to fix your craving! I had to stop myself from eating most of the batch. (If you're not eating gluten free, make these with regular chocolate cake mix.)
For the best results, make these a day ahead and store them overnight in the refrigerator. You won't believe the difference in the way they taste!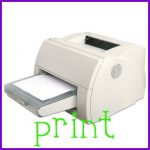 Ingredients
Crust:
1 package gluten-free chocolate cake mix (15-18.5 oz.–we used Betty Crocker)
1 egg
1/2 cup butter, melted
Filling:
8 ounces cream cheese at room temperature
1 cup creamy peanut butter
2 eggs, beaten
1 box (1 lb) powdered sugar
1/2 cup butter, melted
1/2 cup chocolate chips
Instructions
1. Using an electric mixer, mix the cake mix, egg and melted butter to form a thick dough.
2. Press the dough into an even layer in the bottom of a 13 x 9 glass baking dish.
3. For the filling, use a mixer to cream together cream cheese and peanut butter until smooth.
4. Add eggs to the cream cheese mixture and mix well.
5. Add the powdered sugar and mix until thoroughly combined.
6. Reduce the speed of the mixer and drizzle in melted butter.
7. Scrape down the sides of the bowl and make sure everything is mixed together before spreading this mixture over the crust.
8. Spread mixture into an even layer on top of the crust and sprinkle with chocolate chips.
9. Bake 50 to 55 minutes at 350 degrees. The center should still be a tiny bit wobbly looking, with a light golden brown top.
10. Cool completely and cut into bars.
I'm linking up to Gluten Free Wednesdays!
I'm also linking up to Gluten Free Tuesday!
You May Also Enjoy: