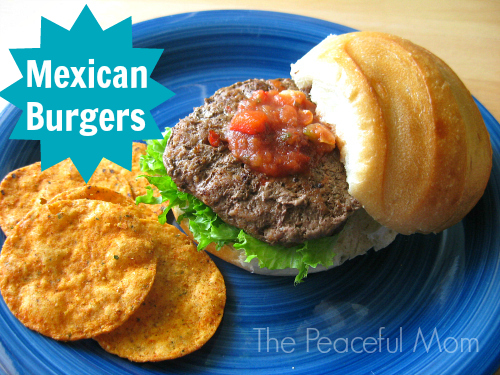 Mexican Burgers Recipe
We recently tired of our usual cheeseburgers and decided to try something a little different–Mexican Burgers. We made our burgers flavorful, but not too spicy, but of course you can adjust the recipe to suit your tastes!
A flavorful twist on burgers from The Peaceful Mom!
Ingredients
3 tablespoons olive oil
1/2 large red bell pepper, diced
1 clove garlic, minced
2 pounds ground beef
1 egg
2 tablespoons dried onions
1 tablespoon chili powder
1 tablespoon cumin
2 teaspoons sea salt
Toppings: Cheddar or Monterrey Jack Cheese, red onion slices, salsa
Instructions
In a small skillet, heat olive oil over medium heat for about 1 minute.
Add diced red pepper to skillet and saute for two minutes until the pepper is just starting to soften.
Add minced garlic and saute for 1-2 minutes more, stirring often so that the garlic does not burn.
Allow pepper and garlic mixture to cool.
In a large bowl, combine ground beef, egg, cooled pepper and garlic mixture, dried onions and spices.
Mix well.
Grill or broil burgers.
Top with cheese, onion slice and salsa according to taste.
Notes
If you need to make these quickly, substitute 1 small can of green chilis and 1 teaspoon dried minced garlic for the sauteed pepper and garlic mixture. To make these gluten free, simply use a gluten free bun or serve burgers without a bun.
https://thepeacefulmom.com/2013/09/04/mexican-burgers-recipe/
Don't miss any of my tips to help you save money, get organized and enjoy life!  Click here to sign up for my FREE Weekly enotes and get FREE gifts including my Stress Free Meals ebook and my exclusive printable organizing labels!
I'm linking up to Gluten-Free Wednesday and GF Tuesday @ Easy Green Mama!
I'm also linking up to Allergy Free Wednesday!
You May Also Enjoy: