Save Money On Groceries–Implement these simple tips to start saving on your grocery bill right away!
To join The Peaceful Mom Save Money on Groceries Challenge,  just leave a comment saying that you already use the tip of the week, or that you will start this week. 🙂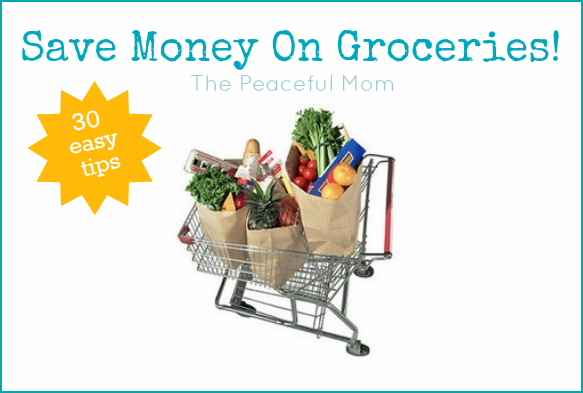 [Click here to see all the tips in this series.]
Todays Tip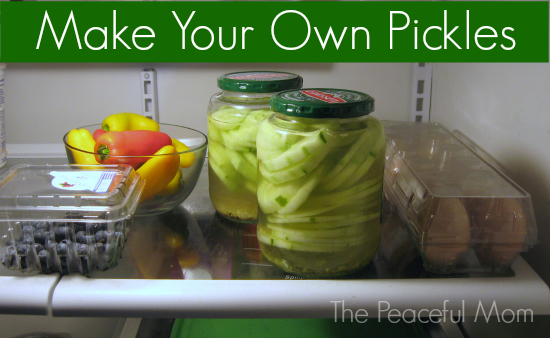 Save money by making your own pickles.
This is so simple that I am almost embarrassed to post it. We recently found cucumbers at a super low price, so I bought extra to try a little pickle experiment. I sliced the cucumbers and placed them in a jar of leftover vinegar and spices from a previous pickle purchase (on sale, of course!).
I left them in the refrigerator for three days, and voila! The cucumber slices tasted just like the store bought pickles. We made two batches using the same vinegar mixture from the original jars, but I am sure that you can make even more. Just pay attention to the original expiration date on the jar.
So, you may be saying to yourself that this won't save very much money. For our family, making just two batches saved $7 that we would have paid for our favorite brand. While pickles are not a necessity, being able to make several batches for just a few cents makes my kids and my budget happy.
If you don't like pickles, think of another item that you normally buy that you can make more cheaply.
What will you make this week? Leave a comment.
MORE "MAKE YOUR OWN" RESOURCES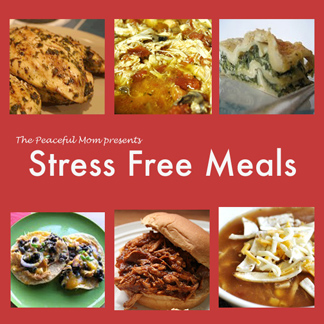 Sign up here for The Peaceful Mom Weekly e-Notes to make sure you don't miss any of my money saving tips! PLUS get my $125 Budget Weekly Menu delivered right to your inbox along with my best tips to save money, get organized and enjoy life!
You will also receive my exclusive 99 Ways to Jump for Joy Subway Art Print, my Customizable Organizing Labels and a FREE copy of my Stress Free Meals ebook.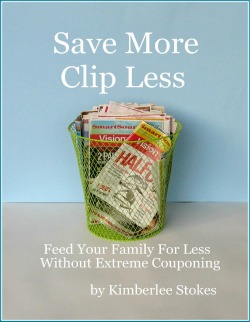 For more ideas to save money on groceries, check out my ebook Save More–Clip Less: Feed Your Family For Less Without Extreme Couponing.
Click here to see what others are saying.