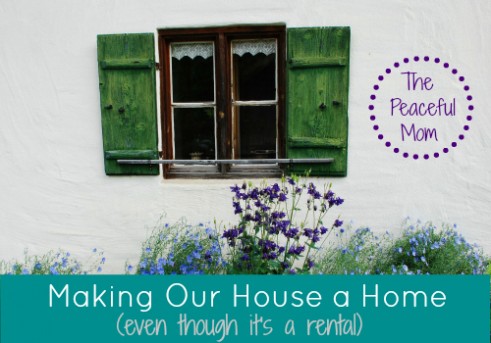 Making Our House A Home (even though it's a rental)–Follow my journey in turning our house into a home. You can read other posts in this series here.
If you have been following along on the blog, then you know that we moved this past weekend to a nicer home and much better situation than we were living in. Now that I have the kitchen set up, I thought I would give you a little peek.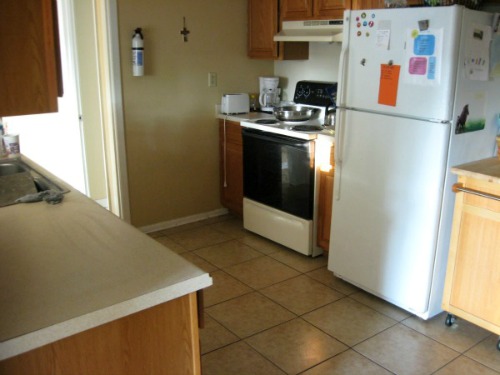 Our Previous Kitchen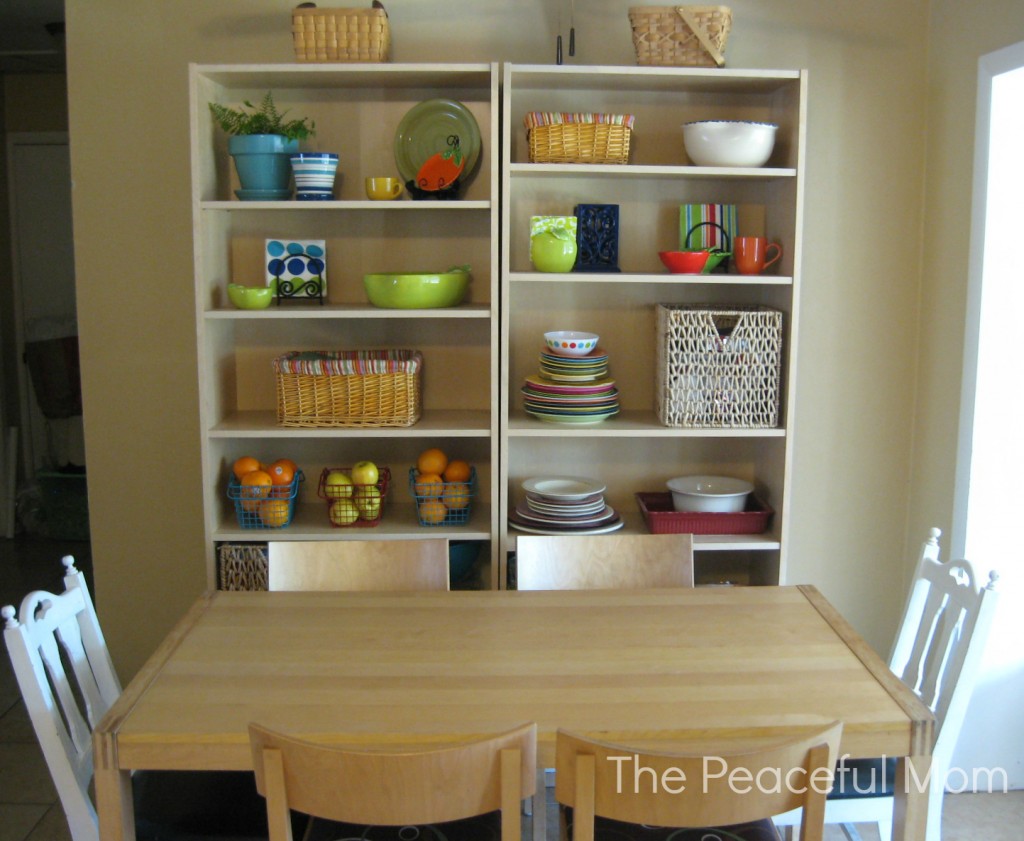 Previous Kitchen Dining Area
I used the open shelving because there was no pantry, but decided that I liked the "cottage" feel of the shelves and I loved decorating them.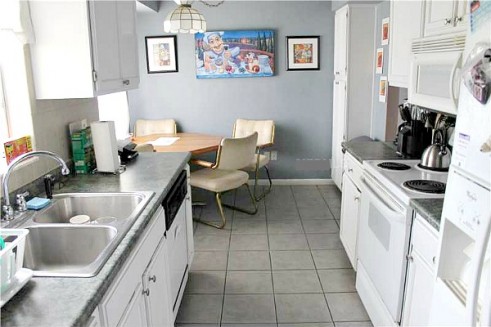 New Kitchen BEFORE
A couple of weeks ago, I showed you a photo of our new kitchen that the previous owner had used in his listing of the house. [Click here to read that post.]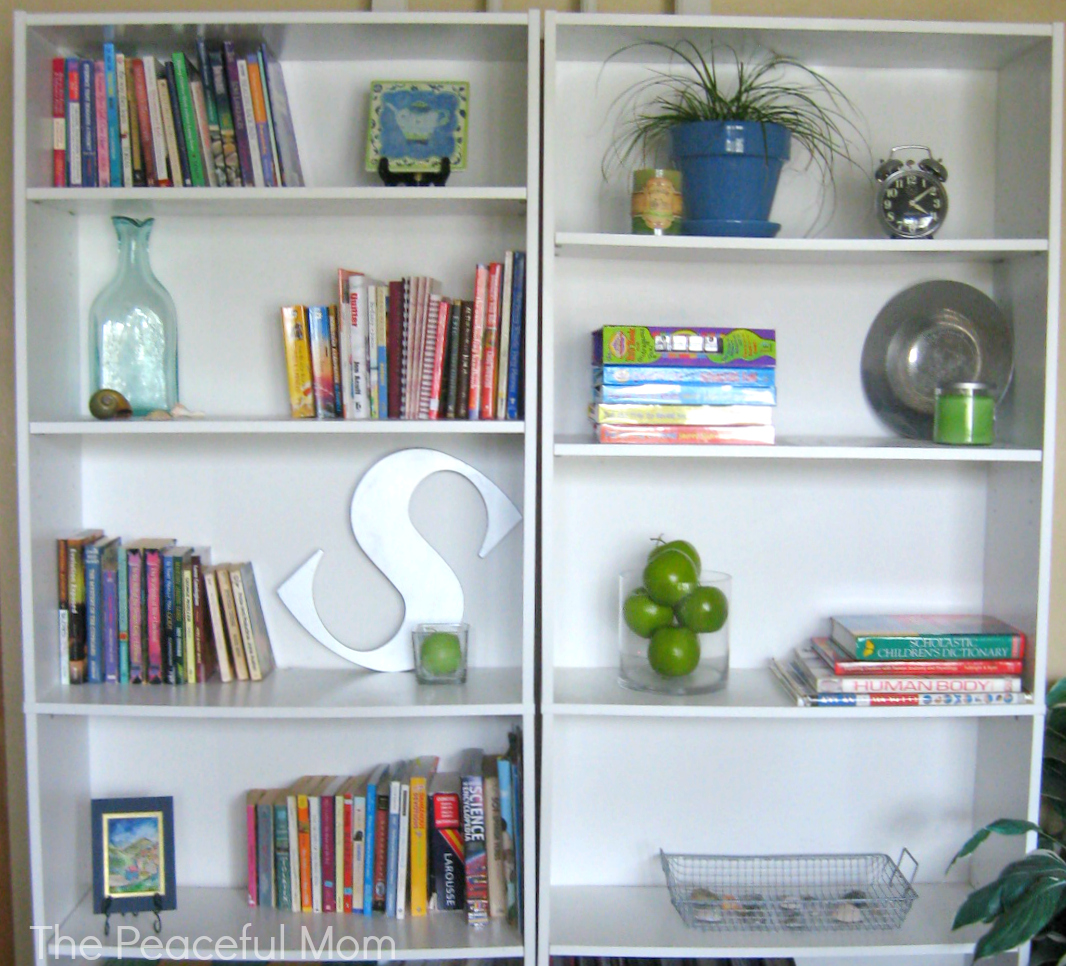 Shelves from Previous Living Room
The moment I saw the kitchen I knew that I wanted to put my white bookshelves from our previous living room on that beautiful gray wall, but when we moved the table and chairs into the kitchen there wasn't much room. I thought that I would just have to hang a painting on the wall, which was frankly a little disappointing.
Then in the middle of the night I decided to move the shelves in to see what they looked like. All I can say is that they belong. I decided to use the top half of the shelves as a decorative accent and the bottom half as storage for kitchen items.
So here is the reveal of the new kitchen with our spin on things…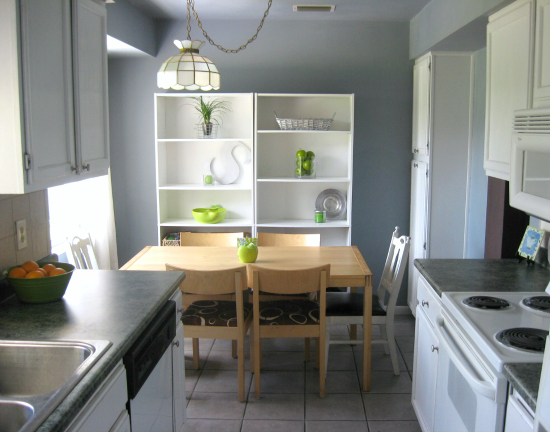 New Kitchen AFTER
I love the clean simple feel of the kitchen now with the pops of color. Everything you see (except for the plant on the top left) I previously purchased from thrift stores, or discount stores. I simply arranged it differently on these shelves.
Here is the second version of the decorative arrangement: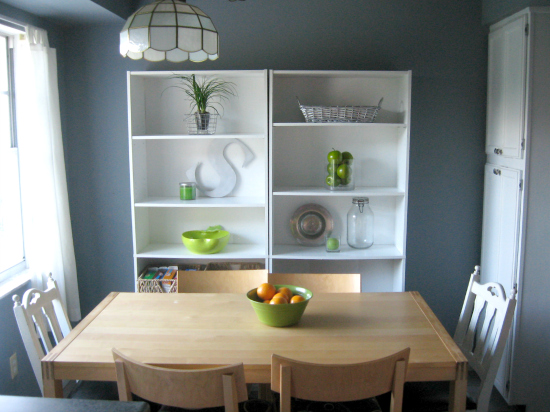 New Kitchen Shelves
Honestly, I just feel happy every time I walk into the kitchen. Eliminating the clutter on the shelves makes a huge difference!
So, what do you think? Leave a comment and let me know. 🙂
[Click here to read all the posts in this series.]
Don't miss any of my tips to help you save money, get organized and enjoy life!  Click here to sign up for my FREE Weekly enotes and get FREE gifts including my Stress Free Meals ebook and my exclusive printable organizing labels!