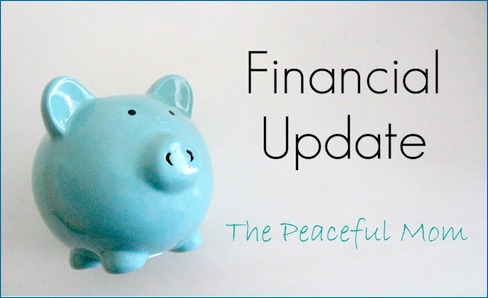 Our Family's Financial Update July 2013
Do you ever wonder how other family's finances work? Take a peek at how things go at our house, and be encouraged that no matter what your financial circumstances are, you can always improve them.  🙂
Spending
I usually try to spend as little as possible, but I really let things slip during July, and we spent more than I had planned.
I was a little disorganized with my new schedule of driving two teens and my husband to work with one car, and it translated into spending money. I overspent on groceries by almost $100 ($500 budget for the month) and I spent about $40 on eating out that we had not planned on spending. I also spent $88 on some clothing items for the girls and shoes for my husband and son, when there was actually no money budgeted for clothing this month, and I overspent on toiletries and household items by $30 ($50 budget per month).
We also had some additional expenses with friends staying with us and some minor medical expenses.
Saving
Our goal for July was to save money for our upcoming move.
Thankfully our utilities remained relatively low at $368 for the month, and our income increased by several hundred dollars thanks to commissions at my husband's job, some items we were able to sell and money we made from the blog. This enabled us to save enough for the deposit on our new home (read more here). We will hopefully receive our entire deposit back for our current house, so that will go into our savings.
August Goals
Our goals for August will be to pay for the move in cash and save any extra money we can into our emergency fund. I really hope to be able to get things back on track once we are unpacked and settled into our school schedule. It seems that the busier I am, the more money I spend. Gotta get control again!
Were you able to meet any financial goals in July? Leave a comment so we can encourage each other! 🙂  
(Email readers will need to click through to the blog to leave a comment.)
You May Also Enjoy: