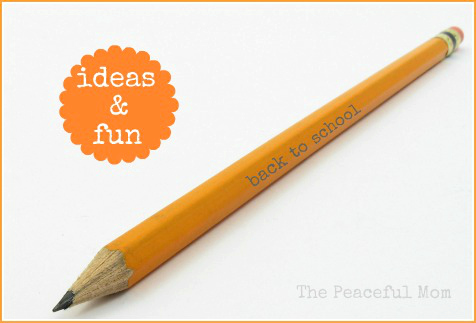 Back to School Ideas & Fun-–4 Tips to Survive Mornings!
It's that time of year again, and for most of us need a little jump start to move from Summer mode into Back-To-School mode. Today I'm talking about a few ways to help your mornings go more smoothly.
 [Click here to see all the Back to School Ideas & Fun from The Peaceful Mom!]
Whether you are homeschooling or sending your kids off to school, mornings can be one of the toughest parts of the day. Here are a few tips to help you get everyone going without losing your cool.
Start the Night Before
You have probably heard it before, but many times the morning crunch is created because important tasks have been left undone the night before. To prevent at least some of the chaos, take time after dinner to prepare for the next day.
Some ideas you will want to think about are laying out clothes for the next day, placing homework and signed papers in backpacks, and packing lunches ahead. Take some time the night before, and mornings will be more peaceful.
Create "Dump" Stations
You know the adage,"A place for everything, and everything in it's place." A great way to get your family organized is to set up "dump stations" in key locations in your home to corral all that school stuff.
A basket or folder strategically placed by the door is a great spot to drop papers that need Mom's attention. If you have space in your entry way, place decorative hooks on the wall for backpacks, or use a colored plastic crate for child's backpack and shoes. Having a place for your children's belongings (and training them to use those places) will keep your house and your family on track.
Wake Up Before the Kids
I know, I know. It can be super difficult to drag yourself out of bed, but I promise you that getting up even 15 minutes before your children can make a huge difference in your mornings. Take a little time to breathe, pray and enjoy the quiet before the storm. Gaining your composure first enables you to create a calm atmosphere to which your children will respond well.
Create a Routine
When your children know what to do next, mornings flow more smoothly. Decide on a morning routine and create a list or chart for your children to follow.
Your list could look something like this:
Get Dressed
Wash Face
Eat Breakfast
Put Dishes in the Sink
Brush Teeth
Put Lunch in Backpack
Put on Shoes
Head Out the Door
A little planning can go a long way in keeping you and your family happy and organized this school year!
What are your best tips to prevent manic mornings? Leave a comment. 🙂
You May Also Enjoy: