Q:
Reader Anne writes:
"I have been following your site for a couple of years and it is such a blessing to us. We make $30,000 a year, my husband works and we also homeschool… and without you I would feel so alone in our very frugal journey.

Recently we have hit rock bottom with debt, car breaking down, medical bills, etc.. What are the first things we should do to get back on track and not go crazy, especially when the problems seem so big and you are already struggling? I'd love some advice."
A:
I'm so sorry that you are feeling overwhelmed, but glad that the site has been an encouragement to you. I am not a financial planner, but I can tell you what we would do (and have done!) in your situation.
[UPDATE 2020: During the economic shut down we're still using this plan for our finances, but we do currently have income coming in. If you have no/little income coming in, pay your utilities and check local food banks to feed your family. Call your mortgage company/landlord to work out a plan such as forbearance until you're working again or have money coming in.]
Take Care of Essentials First
Many financial advisors will tell you to pay your credit cards to keep your credit score up. I personally like Dave Ramsey's advice to take care of the "four walls": food, shelter, transportation and clothing. In other words, take care of the basic needs of your family first, before you pay anything else.
Here is what that looked like practically for our family when things were the tightest:
1. Pay mortgage or rent– Dave says to buy food first and if your situation is so desperate that you can only afford food, by all means feed your family. We have found that if we take care of paying for our housing first, there are many other resources available for food, such as churches and food pantries.
2. Pay electricity and water-We always pay our utility bills next because we need to have power and water to keep things running in our household. If the bill is not due yet, you should still put some money aside to pay it when it is due.
For example, if the power bill is due in two weeks, you are paid weekly and you have money for groceries for the week, try to set aside half the amount of the power bill. If you can't save half, at least save something toward it.
3. Buy groceries– After housing has been taken care of, we buy basic food. Check out THIS POST for a different way to think about your food budget and check out my Save Money On Grocery Series here for some ideas to lower your grocery bill.
4. Put gas in the car– If there is absolutely no alternative transportation (carpooling, taking the bus), put enough gas in your car to drive to work and the grocery store. All other driving should be limited if you're in an emergency situation.
You mention that your car needs repairs. Maybe you can ask if any of your friends know how to work on cars and can help you out for a discounted rate.
If you have to use a mechanic, ask for references and ask them for options. Our mechanic was once able to make something work temporarily with electrical tape and an old part until we could pay for the full repair.
After you have taken care of the "four walls", you can put money toward these priorities:
5. Pay other "essential" services– These are the services that are not life threatening, but are important. For example, if you need your cell phone for work, pay the cell phone bill. Pay you car insurance so that it is not cancelled. By the way, cable/satellite television is not an essential service.
6. Make your car payment– If you have money left, put some aside to make your car payment. For the long term, consider selling any cars that you owe money on and purchasing a basic used car. Try to make it with one vehicle.
7. Pay minimum payments– If there is money leftover, put it toward credit card payments. If we had no money leftover to pay off debt, we just had to trust that the money would come in at some point.
Credit card companies make a lot of "noise" (harrassing phone calls, etc.), but they have to get a judgment against you from a court of law before they can garnish your wages. Your credit score will be affected if you don't pay, but your main priority is taking care of your family's basic needs first, and then dealing with the credit card company when you can.
No matter how bad your situation is, NEVER, NEVER, NEVER borrow money from a paycheck lender! You are entering a trap that's almost impossible to get out of. The rate of interest that they charge will keep you imprisoned to the debt until you cannot free yourself.
Cut Out All Non-Essentials
If you're in a crisis situation, you need to cut out all spending except for absolute essentials. That means no entertainment, no eating out, no recreational shopping trips. There are many, many options for free entertainment, and you can also use the time that you normally spend on entertainment to make some extra money for your household.
If your situation is severe and it will take you a long time to recover, allow some small amount of "free" spending money in the budget so you don't have a "blowout" and spend money that should be used for paying more important items.
Make Some Extra Money
Speaking of making some extra money, check out my posts:
How to Make an Extra $400 This Month
The comments on my 5 Ways to Make Extra Cash post here are very helpful, and any little bit of extra money that you can bring in will make a difference!
Ask for Help
It's humbling to go to a food pantry or to ask someone for their help, but sometimes it's necessary. When you're back on your feet, you can help someone else.
I remember one Christmas early in our marriage, when our son was a few months old, we had medical bills from his birth, my husband was making very little money and we had just bought our first house. The previous owners were supposed to fix our heating system, but didn't, so we were sitting in a cold house with no way to fix the problem.
Our mortgage company sent us a box of toys and other gifts, friends brought us food, and some how we made it. I felt embarrassed that we needed the help, but so happy to receive it.
Pray
If you're spiritually inclined, pray about your situation. Ask God for help and for wisdom about what steps to take next.
I know that God answers prayer, and you can read a few of our stories here.
You may be feeling overwhelmed right now, but don't give up hope! Remember that these drastic measures are only temporary until you can get things moving again in the right direction. I truly believe that things will get better for you!
Read How to Handle a Money Crisis part 2 HERE.
You May Also Enjoy: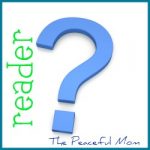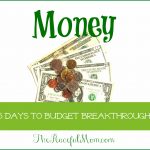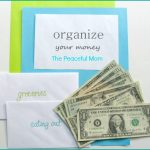 photo credit: posterize, FreeDigitalPhotos.net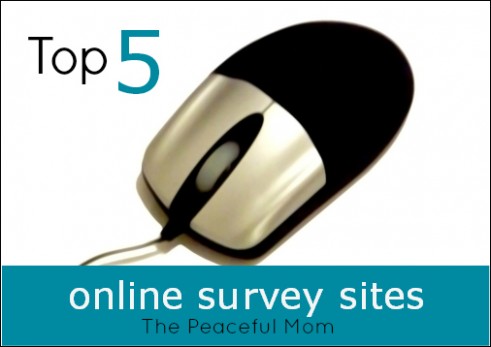 Make money online! Click here for a complete list of The Peaceful Mom's recommended survey sites.