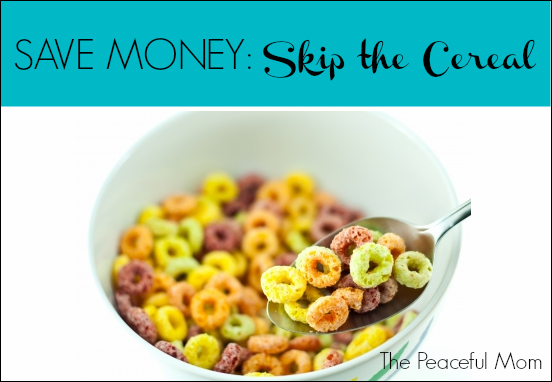 Save Money On Groceries! Each week I share one simple tip that you can implement to start saving on your grocery bill right away.
Many of the tips will be familiar, but if you take the Save Money on Groceries Challenge with us, you will actually take the steps each week instead of just filing them in the "I should do that" file. 

 [To join in, just leave a comment saying that you already use the tip of the week, or that you will start this week.]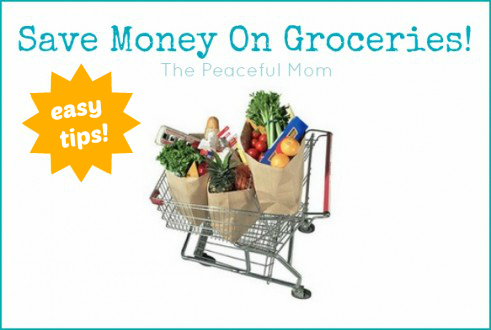 [Click here to see all the tips in this series.]
Todays Tip

Skip the Cereal
It's one of the easiest breakfasts known to mom-kind: cereal. The only problem is that the cost per serving can be five times or more than that of other breakfast foods, and it is not that filling.
So what's a mom to do?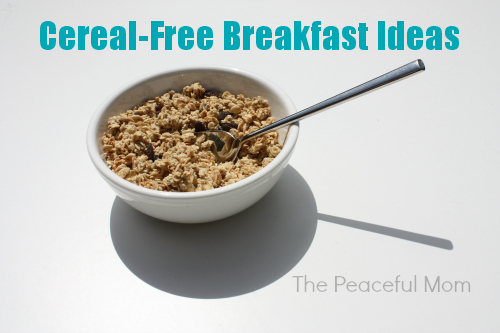 The best plan of action if you are trying to eat less cereal, is to find easy alternatives. A few ideas are:
Freeze Ahead Breakfast Burritos
Peanut Butter Toast with Banana Slices
You can also make your own breakfast foods ahead of time and store them in your pantry, fridge or freezer. Two of our favorites are Crockpot Granola and Easy Freezer Waffles.
Another idea is to make your own instant oatmeal packets by pre-measuring the correct amount of rolled oats into a small air-tight container or plastic baggy, and adding a little dried fruit and/or brown sugar. When it's time for breakfast kids just need to add some water and heat it in the microwave (or if you have older children and are microwaveless like our family, they can heat water on the stove to add to the oats).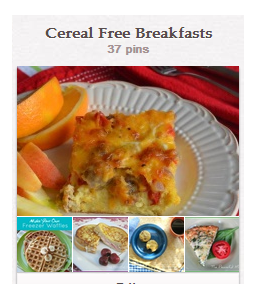 See more Cereal-Free Breakfast ideas here and check out my Cereal Free Breakfast Pinterest Board for quick and easy breakfasts.
Do you have any easy breakfast recipes or tips? Leave a comment. 🙂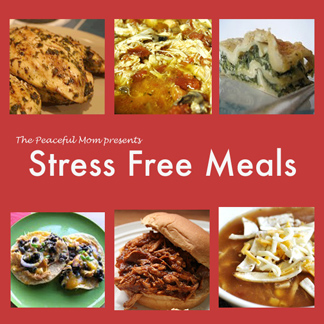 Sign up here for The Peaceful Mom Weekly e-Notes to make sure you don't miss any of my money saving tips! PLUS get my $125 Budget Weekly Menu delivered right to your inbox along with my best tips to save money, get organized and enjoy life!
You will also receive my exclusive 99 Ways to Jump for Joy Subway Art Print, my Customizable Organizing Labels and a FREE copy of my Stress Free Meals ebook.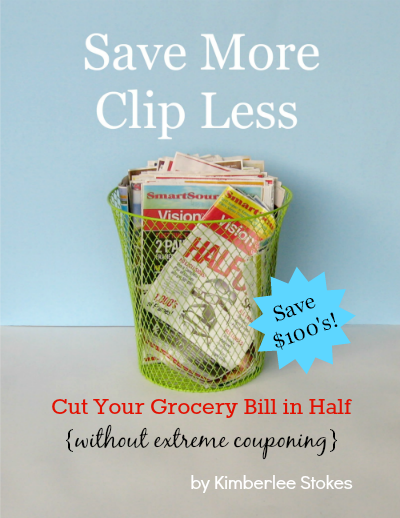 For more ideas to save money on groceries (and a more in-depth explanation of how to make a price book), check out my ebook Save More–Clip Less: Cut Your Grocery Bill in Half Without Extreme Couponing.
Click here to see what others are saying.
Image courtesy of  bearvader, FreeDigitalPhotos.net.