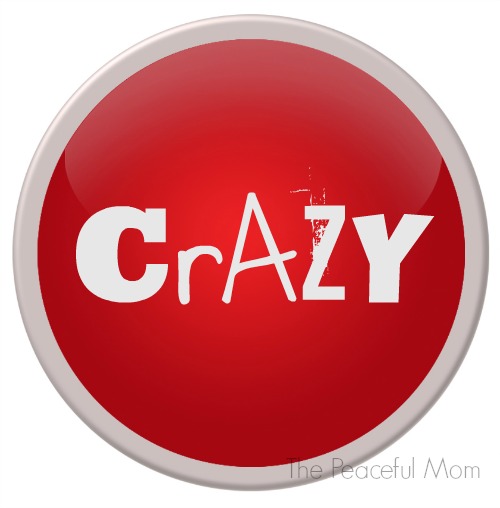 Have you ever reached the end of the day and asked,"Hey, who hit the crazy button?" You know, that day when life is spinning out of control and you are left overwhelmed and off-balance.
Life has been like that for us for the past few weeks. I have hesitated to write about it here on the blog because I like to keep things positive, but a friend encouraged me yesterday to let you in on the eventful times that we are experiencing. Maybe you have a difficult situation right now and can use some encouragement.
The Situation
The biggest issue in our life right now is the fact that we need to find a new house to rent and move by the end of August. I cannot give many details here, but we are currently in an unhealthy situation. Unfortunately, we are having a very difficult time finding something within our price range that is big enough for our family. The search has been discouraging, and draining…and then there is packing.
Another issue which I have previously mentioned is the fact that I am still driving two teens and my husband to and from work. Thankfully a friend who lives nearby and whose son works at the same location is helping me with carpooling, but I am still driving an hour each trip, and some days I have to make as many as three trips. This is a huge time sucker and physically draining. My husband is very sweetly taking the bus whenever possible, but sometimes the routes don't match up with his schedule.
In addition:
*I received a $200 speeding ticket this week. (I was driving 47 in an area that I thought had a 45 mpg speed limit. Turns out it was 35–oops!)
*Our only car broke down (completely stopped) three times last week while I was taking my child to and from a birthday party 30 minutes away. When we took the car to our friend who is a mechanic, he told us that we need a new transmission which will cost $2000, or more than the value of the car. We don't have the money for the repair or another vehicle.
*I woke up a couple of mornings ago with excruciating pain in my right wrist, which left me fairly incapacitated because I am right-handed.
*We need to buy books and pay for classes at our homeschool co-op, and don't have the money yet. I also have lesson plans to complete.
All of this stress creates "brain fog" which makes me feel like I am swimming through molasses. As a result, I have not had as much time, creativity or brain power to work on the blog as I would like either. 🙁
The Solution
So, how am I keeping it together?
Plan A
Eat as much chocolate as possible.
Take frequent naps.
Let out the occasional scream.
Plan B
(a much healthier approach)
On good days, I make better choices such as:
Exercising.
Drinking 6-8 glasses of water.
Taking B vitamins (they help your body cope with stress).
Eating veggies at every meal.
Getting plenty of sleep.
Journaling.
Praying a LOT.
While things look tough right now, we have much to be thankful for and I know that I can trust God. So…
I am packing boxes in faith that we are moving–even though I can't see where we will move.
I am driving our car in faith that it will keep going until we can get another car–even though I can't see how.
I am getting up every morning in faith that life is getting better–even though I can't see "better" right now.
If you are thinking that I am stupid, foolish and/or irresponsible, kindly refrain from telling me so. I don't expect everyone to share my beliefs, or to approve my decisions, but I wanted to share to let you know why things have been a little sporadic here on the blog.
I will be excited to share with you how everything gets resolved.
What about you? Are you experiencing a crazy season in your life? Share in the comments. 🙂
(And share this post with a friend who you know is going through a difficult time.)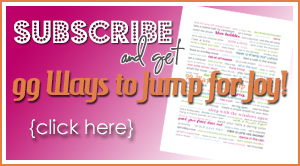 Don't miss any of my tips to help you save money, get organized and enjoy life!  Click here to sign up for my FREE Weekly enotes and get FREE gifts including my Stress Free Meals ebook and my exclusive 99 Ways to Jump for Joy Subway Art Print!
You May Also Enjoy: