Save Money On Groceries! Each week I share one simple tip that you can implement to start saving on your grocery bill right away.
Many of the tips will be familiar, but if you take the Save Money on Groceries Challenge with us, you will actually take the steps each week instead of just filing them in the "I should do that" file. 

 [To join in, just leave a comment saying that you already use the tip of the week, or that you will start this week.]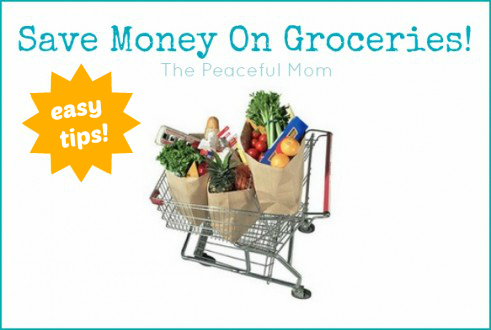 [Click here to see all the tips in this series.]
Todays Tip

Today I'm talking about something that will save you money, but which may be unpopular: eating less.
The truth is that most Americans eat far more than we need to. I am guilty of it too. It seems that food is everywhere, and we are constantly bombarded with advertisements with delicious looking dishes and suggestions from fast food restaurants to enjoy a "fourth meal" at 2 o'clock in the morning!
You can read my necessity food versus entertainment food post here to learn how our family views food differently, but today I want to give you some tips to help your family eat less, but still feel satisfied.
Curb the carbs.
Carbohydrate foods are used up quickly by our bodies and create short bursts of energy, with a drop in our energy levels shortly thereafter. That energy drop signals our brains that we need to eat more, so we continue on an endless cycle of eating more and more carbs, or fighting hunger pangs all day long.
Eating healthy fats and protein at each meal will enable your body to feel satiated and help you to eat less. Start your day with a protein-packed breakfast, and choose healthier snacks like celery sticks with peanut butter or cream cheese, apple slices with cheese and raw nuts.
Drink more water.
You probably know that you should drink eight glasses of water a day, but if you are like most Americans, a glass of water hardly touches your lips during the day. You drink a couple of cups of coffee in the morning, a diet soda with lunch and tea with your dinner. While all of these drinks are fluids, they also contain caffeine and sugar, which some studies show can contribute to dehydration.
One fact that you may not be aware of is that dehydration can actually feel like hunger pangs, which makes you want to eat rather than addressing the actual problem of needing to drink more water.
Change your food triggers.
Your mind associates activities like eating with your location, so even walking into a room can trigger a "need" to eat.. If you make it a habit to eat while watching television, then you will probably feel hungry every time you sit down to watch a t.v. show. It doesn't help that many of the commercials are for food either.
To break this cycle of "trigger" eating, try replacing the food with another activity such as folding laundry, knitting, playing with a softball or doing leg lifts while watching television.
Trade your dishware.
Help yourself eat less by choosing lighter-colored dishes (bold colors like red and orange excite your brain and can trigger overeating), and  smaller dinner plates (your plate will look full with less food). These changes may seem small, but over time they can save you a lot of calories!
Make over-eating incovenient.
You can also eat less by making simple changes like leaving dinner on the stove instead of putting it on the table (having to get up from the table for a second serving makes you think about that extra food you are about to consume). Another great idea is to remove a couple of servings of dinner foods before you eat, and package them for lunches the next day.
Rather than eating snack foods out of the bag or box, take a small serving and place it in a cup or bowl, then put the container away. If you don't see the food, you are less likely to eat it.
What are some tips you use to help your family avoid overeating? Leave a comment. 🙂
RESOURCES
5 Easy Ways to Drink More Water
Information about healthy fats (especially read the section titled "Confused About Fats?"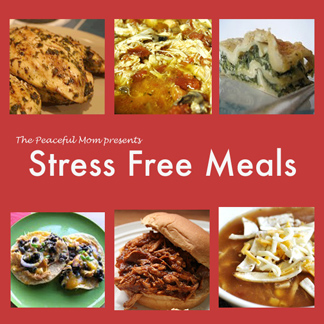 Sign up here for The Peaceful Mom Weekly e-Notes to make sure you don't miss any of my money saving tips! PLUS get my $125 Budget Weekly Menu delivered right to your inbox along with my best tips to save money, get organized and enjoy life!
You will also receive my exclusive 99 Ways to Jump for Joy Subway Art Print, my Customizable Organizing Labels and a FREE copy of my Stress Free Meals ebook.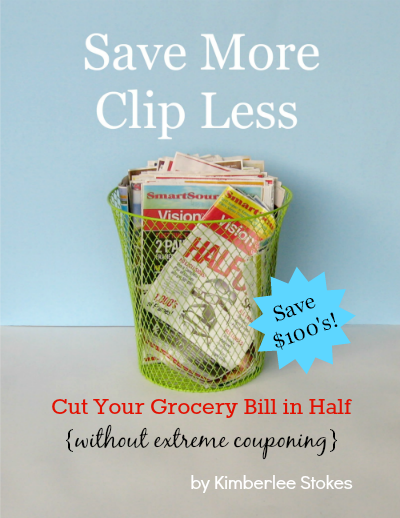 For more ideas to save money on groceries (and a more in-depth explanation of how to make a price book), check out my ebook Save More–Clip Less: Cut Your Grocery Bill in Half  Without Extreme Couponing.
Click here to see what others are saying.
Please Note:  This post should not be construed as professional or medical advice. I am simply sharing some personal ways I have been able to keep my family well fed while keeping the budget lower. You should seek the advice of a qualified medical professional if your circumstances require it.