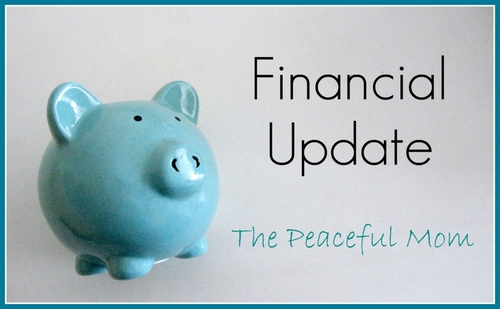 Our Family's Financial Update: June 2013
Woohoo! It's time for another Financial Update. Take a peek at how things go at our house, and be encouraged that no matter what your financial circumstances are, you can always improve them.  🙂
Don't miss any of my tips to help you save money, get organized and enjoy life!

Click here to sign up for my FREE Weekly enotes and get FREE gifts including my Stress Free Meals ebook and my exclusive printable organizing labels!
Spending
After an expensive May, the month of June was a time to slow down and try to spend as little as possible.  
We were able to keep several budget categories on track for the month. While our power bill was slightly higher because of our use of the air conditioner and our internet bill increased by $10 a month, our total utilities (including cell phones, water, electricity, trash service, home phone and internet) were still only $338 for the month.
Our total spending on toiletries and household items was $34 ($50/month budget), and we spent $49.50 eating out ($50/month budget) for individual dates with our kids and a date for just my husband and myself.
Two areas where we spent more than planned were groceries and gas. Transporting three family members to jobs with conflicting schedules increased our gas expenditures from around $300 a month to $450 in June. We did have our teens pay for part of the gas out of their paychecks. This not only teaches them responsibility, it also helps a little with the family budget.
Along with the increased transportation costs, we also overspent in the grocery category. I was only slightly over my $125 a week grocery budget at $528.60, but we spent an additional $120 for a bulk meat purchase for the freezer.
We also splurged on a trip to an amusement park where we were offered free tickets. We spent $50 on food because the park did not allow outside food to be brought in, but the day would have cost us over $300 without the free tickets.
Saving
Our goal for June was to start replenishing the emergency fund. By limiting our spending we were able to save $250, but that money went into our car repair fund in our second checking account (read more about our Freedom Account here), so our e-fund is still at $100.
July Goals
We will try to keep expenses low again this month and save as much as possible. We still need to save for a second vehicle, but we want to pump up our emergency fund first. (Read my 3 Reasons You Need An Emergency Fund and How to Get One Fast post.)
Were you able to meet any financial goals in June? Leave a comment so we can encourage each other! 🙂  
(Email readers will need to click through to the blog to leave a comment.)
You May Also Enjoy: