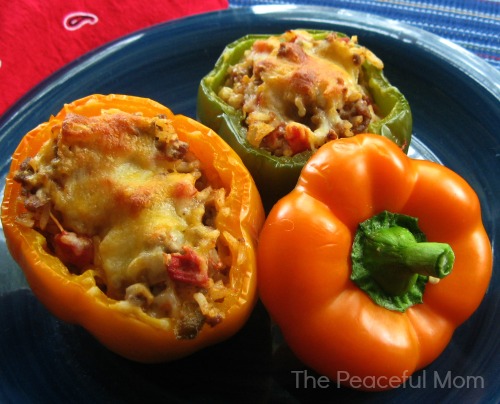 Mexican Stuffed Peppers Recipe
I have not made stuffed bell peppers in about ten years, but when my teenage son requested stuffed peppers, I decided to try them again. This recipe came about by accident when I added diced tomatoes with chilis instead of diced tomatoes with Italian seasoning to the ground beef, but we LOVED them!
Tip: Use leftover rice and pre-cooked ground beef from the freezer (see my Easy Freezer Cooking Video here) to serve this meal in 40 minutes or less.
 

Mexican Stuffed Peppers Recipe

Ingredients
6 medium sized bell peppers
1 pound ground beef
1/2 yellow or white onion, chopped
1 cup cooked white rice
3 tablespoons extra virgin olive oil
8 ounce can diced tomatoes with green chilis
1 tablespoon chili powder
1/2 tablespoon garlic salt (add more to taste)
1/2 cup finely grated cheddar Monterrey Jack cheese, divided
Instructions
Fill a large pot 2/3 full of water, add 2 tablespoons of salt.
Heat over high heat until water boils.
While waiting for the water to boil, slice the top of the bell peppers off, and scoop out the seeds creating a bowl.
Test peppers to make sure they will stand up without tipping over. If a pepper rolls to the side, slice a small amount off of the bottom to even out the surface.
Add peppers carefully to the boiling water, cover the pot, turn the heat down to simmer and cook for 5 minutes to soften.
After five minutes, remove peppers from the boiling water and set into a 9x13 glass baking dish with 1/4 inch of water covering the bottom of the dish.
Add olive oil and diced onions to a large skillet and sauté over medium heat for about 4 minutes.
Add ground beef to skillet and brown well, stirring occasionally.
Add cooked rice and stir to combine with meat mixture.
Add chili powder and diced tomatoes with chilis. Stir to combine well.
Turn off the heat and add 1/4 cup of the cheese to the meat mixture.
Spoon meat mixture into peppers in baking dish, filling each pepper almost to the top.
Top with remaining chesse.
Bake at 350° for 30 minutes or until the cheese is bubbly and starting to brown.
Serve immediately.
https://thepeacefulmom.com/2013/07/02/mexican-stuffed-peppers-recipe/
I'm Linking up at Tasty Tuesdays and Gluten Free Wednesdays!
I'm also linking up to GF Tuesday at Easy Green Mama.
You May Also Enjoy: